Apple Store may help company improve brand positioning in India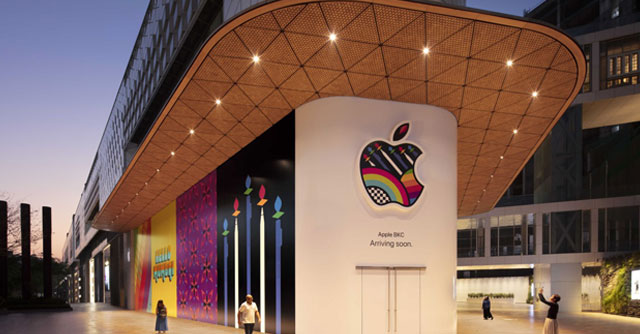 Apple, on Wednesday, announced its first Apple Store in India, which will open at Bandra Kurla Complex in Mumbai. While having its own stores won't have an immediate impact on the company's market share in India, experts said that the stores may improve its brand positioning, and help expand business opportunities. They will also allow Apple to offer an end-to-end consumer experience, which has been a key part of the company's global strategy for years.
"With India's overall GDP and growth story continuing, investing in retail will expand the business opportunity for Apple and improve the availability of products. It will help them in brand positioning," said Rajesh Goenka, Chief Executive of RP Tech, a national distributor for electronics firms.
Further, Tarun Pathak, research director at Counterpoint Research noted that opening more self-owned stores "will further strengthen Apple's premium image and experience". "With the new store, Apple will be able to control the end-to-end experience and purchase journey," he said.

To be sure, India has been among the fastest-growing markets for Apple over the past few quarters, even as demand has slumped in many of its traditional markets. The firm reported a quarterly revenue decline of 5% year-on-year (YoY) in the December quarter, but posted double-digit growth in India and set a quarterly revenue record for itself.
According to data from IDC, Apple is estimated to have shipped around 6.5 million iPhones in India in 2022, up from 4.8 million in 2021.
The company's first Apple Store also comes at a time when consumers in India have been buying more premium products. "While Apple has taken time to open its own store in India, it makes sense now more than ever. The Indian consumer is maturing and spending more, especially at the premium end, which makes India the big growth market in the next decade for Apple – across product and service categories," said Navkendar Singh, associate vice president at IDC India.

"Offline retail continues to be key in a large, diverse market like India, where consumers love to touch, feel and explore the products," said Prabhu Ram, head of Industry Intelligence Group at CyberMedia Research.
Ram added that Apple will try to replicate its "famed Apple retail experience" known for its consumer experience, staff expertise, and service standards, in India.
IDC's Singh, however, noted that current retail partnerships will continue to be the volume driver for Apple, and its own store will cannibalize some part of large format retail sales eventually. He added that "stock and variant availability" might be better in Apple Stores, just like its online store.

At the moment, Apple sells its devices through its partner retail stores such as Imagine and Future World as well as multi-brand small and large format stores. But despite growth in India, Apple still has about a 4% market share in the country, which means there's room to grow.
RP Tech's Goenka and Counterpoint's Pathak noted that Apple's current distribution partners are unlikely to be impacted by the company's own stores, since the company's overall market in India is also expected to grow.
"There is room for growth for all. Apple has 500 Stores across the world. It is not going to have 15-20 stores in Mumbai. They still have to cover the entire city and for that, they need premium resellers," he added.

---