Infosys misses FY23 revenue growth guidance, PAT, topline decline sequentially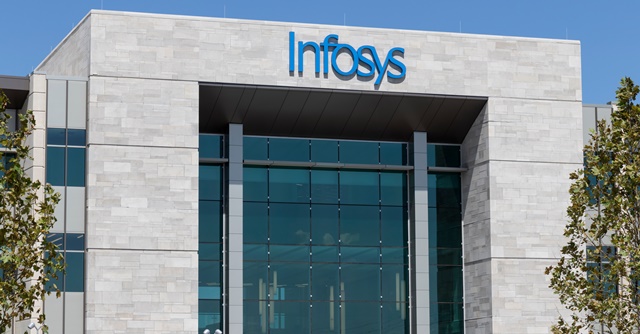 Infosys, India's second-largest IT company missed its revenue growth target of the last financial year in constant currency terms, as sluggishness in the banking and financial services sector across the western markets weighed.
The IT major reported a 15.4% rise in its FY23 revenue against its guidance of 16-17%, in CC terms for FY23, while reporting an Ebit (earnings before interest and taxation) margin of 21%, hence just touching the lower end of its 21-22% guidance for the FY. Ebit Margin was 50 basis points lower than the 21.5% reported in the preceding quarter.
One basis point is one-hundredth of a percentage.

Moreover, the company has guided for a single-digit revenue growth of 4-7% for this financial year, indicating what could be a telling year for the industry. Ebit margin is expected to be in the range of 20-22% compared to the earlier 21-22% expectation.
Net profit rose 7.8% to ₹6,128 crore on a year-on-year basis but declined 7% compared to the preceding three months. Rupee revenue was up 16% at ₹37,441 crore YoY but down 2.3% on a sequential basis.
The sequential fall in revenue can be mainly attributed to a nearly 4% decline in banking, financial services, insurance (BFSI) revenue, to ₹10,818 crore for Q4.

Shares of Infosys ended Thursday's session with cuts of 2.8%, at ₹1,388.60 apiece, against a mild uptick of 0.06% on the BSE IT index.
To be sure, India biggest IT services player TCS also, earlier this week, announced a slowdown in revenue growth and margin owing to slowing BFSI growth in the US and Europe.
TCS' sequential rupee revenue growth slowed to 1.6%, primarily due to a modest 9.1% growth in BFSI, compared to 16.6% in Q3FY23.

"Last quarter, we expected North America to recover through the start of the year meaningfully. This recovery has obviously not materialised and turned out to be more negative, or slower than what we originally expected — and the numbers show that as well," TCS' MD, CEO Rajesh Gopinathan had said.
Banks and financial institutions in the western economy, plagued by rising interest rates and a looming recession have started holding back IT spends. Additionally, the return to offline normalcy pre-pandemic has not been helpful for IT services companies that have a significant market here.
As a result, Infosys' constant currency growth too saw a decline of 3.2% on a sequential basis, as the total contract value of new deals retreated from an 8-quarter high of $3.3 billion in Q3FY23, to $2.1 billion in Q4.

However, segmentally, financial services continued to be the biggest contributor to over revenue, at 28.9%, followed by retail (14.8%), communication (11.8%), energy & utilities (12.9%), manufacturing (13.5%) and life sciences (7.2%).
Among geographies, North America saw a decline in revenue contribution by 100 basis points as the European market grew 120 bps during the quarter.
On the operational front, Infosys reported a drop of 4.4% in absolute Ebit to ₹7,877 crore this quarter but rose 13.2% YoY.
Total headcount in Infosys drops by 3,611 employees, even as attrition reduced by 340 bps to 20.9%.

---