Vedanta-Foxconn chip JV aims at revenue by FY27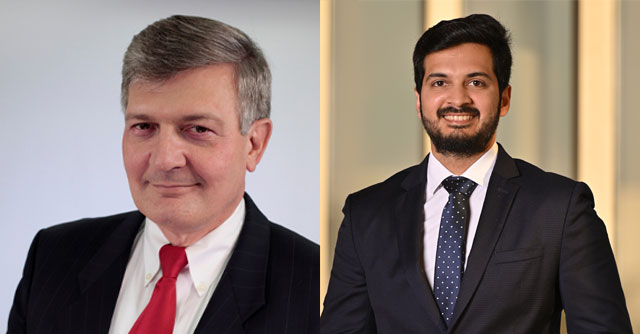 Vedanta-Foxconn Semiconductors, the joint venture between India's Vedanta group and Taiwanese contract manufacturer Foxconn, aims to begin generating revenue from its semiconductor fabrication unit in India from FY27, said newly appointed chief executive of the venture David Reed, and Akarsh Hebbar, managing director of Vedanta's semiconductor and global display business. Construction of the plant is slated to begin by the end of the current fiscal year, they said in an interview.
The top executives clarified that the equity structure of the venture would not change and that they had inked an agreement with a technology partner for the semiconductor fab unit. The joint venture is awaiting government approval for the $20 billion project and aiming to order equipment for the plant by the end of FY24. Edited excerpts:
Q. What sort of timeline are you looking at for semiconductor manufacturing and revenue?

Akarsh Hebbar: We have identified land in Gujarat. We are talking to the government about the landfill. We have signed MoUs (memorandums of understanding) with companies in Japan and Korea. There is $80 billion that the ecosystem can earn because semiconductor and display units are coming here. We are talking about a very big change in the economy and ecosystem once we see government approval come through. Government approval anytime this year will enable us to make sure the funding happens according to what the project requires. Minister Ashwini Vaishnaw said that approvals would start coming in the next few weeks. If that happens, we are hopeful by the second or third quarter. We will start ordering our equipment. This equipment will take about a year and a half or two years to come in.
David Reed: The ultimate target is to have revenue by FY2027. We are right now working on the site in Dholera to move the dirt. We aim to have the first shovel event this fourth quarter. We are targeting initial construction with 1,500 people that will climb to 3,000 plus by the third quarter of next year.
Foxconn has access to production-worthy high-volume manufacturing for 40nm nodes. It is signed, sealed, and accessible to us. We have started negotiations with the suppliers and with Foxconn. There are going to be 900-1000 suppliers and 150 core suppliers.

The 40nm is the basis, and on top of that drops, the 28nm. The interchangeability between those two is about 80-85%. This technology is mainstream and automotive grade, which is very critical. We will start off with the basic logic and microprocessors and controllers. Having such a powerful partner like Foxconn helps. They have a picture of where this 28nm and 40nm node will go not only within India but also outside India.
Q. You said government approvals are pending. Have things not moved forward since the signing of the MoU?
Hebbar: This is one of the most strategic projects not just for India but also globally. India is going to be the fifth country with this ecosystem, generating 80,000 to 100,000 jobs. We are going to see 150 companies in the ecosystem start locating in India even before our fab comes up. We are seeing the government putting an amazing policy that is attracting all the players. The process is going to be stringent so that it sets an example that it's a place where we can do business and more fabs can come.

We are running everything in parallel, so we don't want to keep everything hung up until we get the approval. Government approval anytime this year will enable us to make sure the funding happens according to what the project requires.
Q. There are talks about your partners seeking changes in the equity structure. Are any changes being considered where Foxconn is looking at taking a higher share?
Hebbar: Right now, there is a status quo. We have our equity structure, which is signed. We have a strong technology license and agreement with our partners, which will give us the technology we can implement in our factories. We're all looking at having an equity structure where you're de-risking our partner, and this is the perfect structure for us to de-risk Foxconn. As Vedanta, we know how India works, how the government thinks, and the financial banks work. So I think they're very trusting in us to say that, no, we want to come in and give our technology to make sure this JV is successful. But we were very certain that Vedanta would take the lead.

Q. Will there be multiple technology partners?
Hebbar: We have tried and tested technology partners for 40nm today. If you look at TSMC (Taiwan Semiconductor Manufacturing Co.), by the time they started actually building 14nm nodes, they already had 3nm. We can never say that after 3-4 years, we will not have a new technology partner who is going to give us a better node according to the market. We think India is in a sweet spot for 40nm and 28nm. These nodes are tried and tested since 2012 and go into automotive and ICT devices. In India, we can build another 12-15 semiconductor fabs and another 15-20 display fabs before it even starts saturating.
Q. Are more semiconductor units being considered beyond Dholera?

Hebbar: Gujarat is the first site it will be put on the map, and we want to make sure that India is globally put on the map. See, it'll create a whole bandwagon effect. Because when you see tried and tested ecosystems in one place, it sets an example for all the other states. And for that, Vedanta is willing to get more downstream people already upstream as the ecosystem.
Q. Typically, semiconductor demand is cyclic. You're targeting 2027. How will you ensure that you're not caught at the wrong end of that cycle?
Reed: So, first of all, it's almost impossible to predict. It's feast or famine there, but that dynamic was in a different world a few years ago, where you didn't have the concerns of getting the wafer. I'm not saying all trees are going to grow to the sky. There will be a cyclic (trend) in semiconductors, but what's unique about this factory (in India) is that there is an export market, and people want a second source, or they want a predictable, consistent source or a new source.

Q. Will the investment projections change?
Hebbar: They remain the same. We've said that we're investing about $20 billion. In phase one, it is going to be about $8-10 billion in semiconductors and $3-4 billion for the display unit.
Q. How are you going to make chips low-cost like value source products locally, components locally?
Hebbar: It's more about affordable electronics than low-cost chips. The chips will be operationally efficient since it is a tried and tested technology anyway. It's a copy same, copy exact model. And 20nm is the most tried and tested Greenfield technology production that actually hits time to revenue much faster than other nodes.
Reed: If you have an existing 40nm you can decide to shrink it so, you know, you can get 30%-40% more chips going from one node to the other. The other issue is that you know, we're competing against people that have been established for 30-40 years, so there will be initially a high cost. Once you work your way through that incrementally, the incremental cost drops a lot. Cost is a factor, but being able to get it (in terms of availability) is a much higher cost of entry.
Q. What will be the capacity of the semiconductor plant?
Reed: So, we start off with a 5000 wafer-a-month capacity of 40 nm semiconductors. This capacity will be ramped up to 40,000 wafers a month. It'd be fungible between 40 nm and 28 nm. So we want to eventually have 28 nm production as much as possible because customers looking at cost reduction would shift from 40 to 28 nm nodes. The other exciting part of this is India has already proven itself in the IP third-party arm. You look at all the IBM's. They have these huge design hubs here. So we'll be able to tap into that from the 28 and 40 nm nodes.
Q. Will any of the capacity be pre-contracted?
Reed: We are looking at everything. We have a strategic partner in Foxconn, and they will also have a say in things. So, we are going to pick as many partners in, both in India and outside of India, to take this capacity. And, once that 24% of the eight-inch equivalent is in these two nodes, customers are bound to look to India for supplies. OSATs have also expressed interest in having testing facilities in India. So, India will provide a complete ecosystem for chips to its customers.
Q. Will the export market and local market be equal?
Reed: So from the international side, you'll have the mobile, automotive, IoT, consumables and then on the India part of it, we have a very powerful customer partner with Foxconn, with over $50 billion of semiconductor consumption a year. They got a picture of the international (demand). Also, they have a very good picture of what is needed as they pivot and do more production in India. There's a lot of interest in companies wanting to expand or relocate what they have already into India.
Hebbar: It is very practical to think that India has 45% of the world's population, and its consumption is equally as high. We are the second largest captive market. So even though we are in a way to make sure this factory comes to India, we have the luxury of thinking that we can take India as our customer base. We can build a lot of fabs, but we are going to start building on what we can use these chips for. It can be for defence, network of 5G, it can be for consumer electronics, making it affordable to the end consumer, but it can also be to the foreign market where they are selling their products to India.
Q. Vedanta Group is forging partnerships with Korean and Japanese companies from the display glass industry for the development of an electronics manufacturing hub in India. How will that help with fabs business? Will the company go for more such partnerships?
Hebbar: It's about developing the ecosystem around the semiconductor unit. Korean companies have been making IC drivers and photo masks for display but are not finding business in the local market as companies such as LG and Samsung moved out of LCD and put all their facilities in China. But these companies still exist. They still want to see how they can grow and where the next destination is for them. They could either come to us or go to the US. So we are signing up with them. Japan also has a lot of high-tech manufacturing. All the companies in Japan and Korea are saying that India is the next big wave. We have to catch on to it. The semiconductor fab and display can only survive if an ecosystem for such manufacturing exists. This is our idea to bring in more such players around our facility.
Reed: Apart from suppliers, there is a social aspect to developing a hub around the semiconductor facility. The government is also helping us build a social infrastructure around the facility with residential apartments, hospitals, shopping malls, and restaurants. These would look down on priority, but it is extremely important to attract world-class talent to come to India. You do not have to get something exciting as manufacturing the world's first 300 mm wafer fab in India but also have to develop an ecosystem that supports both human and physical capital. One of the reasons why I was excited about the project is that there are pivotal moments in semiconductors, and this is one of them. India is at the right place at the right time.
---