Wipro announces its largest buyback ever, IT services revenue rises 11%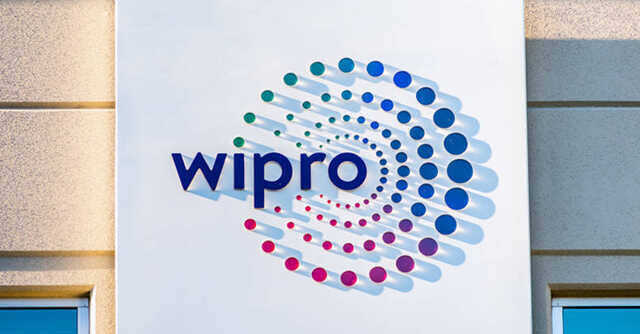 Information technology (IT) services firm Wipro's board approved its biggest share buyback to date worth ₹12,000 crore, in a bid to reward investors at a time when tech stocks across the globe are struggling to keep their share prices at pandemic levels.
This is Wipro's fourth buyback since 2016. It announced buybacks worth ₹2,500 crore, ₹11,000 crore, ₹10,500 crore and ₹9,500 crore in 2016, 2017, 2019 and 2020, respectively.
The company has proposed to buy back 26.96 crore equity shares, comprising a 4.91% stake in the company, for a price of ₹445 apiece, a premium of 18.9% to Thursday's closing of ₹374.35 per share on the Bombay Stock Exchange.
On the earnings front, Wipro was no exception to its larger peers like Tata Consultancy Services (TCS), Infosys and HCLTech, reporting lower-than-expected revenue growth for the March quarter, primarily signaling a cut in client spending across the sector.
The company's IT services revenue grew 11.1% to ₹23,289.3 crore in Q4FY23, against ₹20,967.5 crore during the year-ago quarter. IT services Ebit was up 7% at ₹3,758 crore year-on-year.
Despite falling below expectations, Wipro recorded its highest ever quarterly deal wins at $4.1 billion, up 28% annually. This comes at a time when the domestic IT sector struggles with the outlook for this fiscal, amid a cut in client spending across the West.
In its post-earnings press conference, Thierry Delaporte, managing director and chief executive of Wipro, said, "Looking ahead, we believe the macro environment will remain challenging. Our clients, industry and its many sectors are impacted by the prolonged uncertainty in the economic environment, and this has made an impact in our business and projections as well. For the next quarter, our sequential guidance is of -3 to -1% in constant currency. Our margins are expected to remain in the similar range in the recent quarters."
Wipro is not the first company to forecast weak revenue growth figures for FY24. On April 13, Infosys projected an annual revenue growth of 4-7% for this fiscal -- well below Street expectations. However, analysts said that Wipro's overall revenue growth could improve later in the year, in the second half.
"The main impact for Wipro is its profitability in FY23. Even in terms of the share buyback, it may make sense from the Board's perspective since its shares are cheap at the moment, but this goes on to show that the company is not making significant investments in future innovation and technologies. Coupled with that, you also see the $100 million-plus contracts remain constant, so we're likely looking at at least another two quarters of uncertainty, before the growth returns to the business," said Akshara Bassi, research analyst, global cloud and servers at market researcher, Counterpoint India.
Mitul Shah, head of research at brokerage firm, Reliance Securities, said, "Wipro's revenue was broadly in line with our expectations, while its guidance for Q1FY24 is much below expectation. Considering its restructuring efforts, which include simplified operating structure, step-up in capability upgrade and talent management under new leadership in the medium-term with attrition decline supporting margin expansion, at present we have a 'Buy' rating on Wipro."
However, Shah added that the rating could be revisited based on "weaker guidance and challenging business situation for the IT services segment."
Delaporte, however, said that the company closed FY23 "at a significantly improved place" than FY22.
"We're getting stronger operationally, and taking a more futuristic approach to solutions. We have the growth mindset, and the right organizational structure and the talent, which gives us resiliency for long-term success," he added.
Explaining the rationale of the buyback, Jatin Dalal, president and chief financial officer, said, "At the end of FY23, we had $3.1 billion in net cash, and our buyback including taxes would collectively be around $1.8 billion. Even if you take a look at our net cash in hand following the buyback subject to shareholder approval, and taking the June quarter's cashflow into account, we would still have $1.5-1.6 billion in cash available at the end of the next quarter, which gives us operational flexibility and resiliency."
He added that Wipro's Board is confident of its cash flow giving the company "sufficient headroom", even with the buyback.
Saurabh Govil, president and chief human resources officer, said that the company hired 22,000 freshers through FY23, but did not offer a hiring forecast for FY24. "We have improved our utilization, so going forward, we've to look at the talent supply chain both in terms of hiring and utilization. As the demand improves and business flows come back for us to see growth, we'll continue to hire again. We don't have any specific number to share right now. But, we continue to hire now too, and obviously our attrition has reduced too," he said.
Wipro's attrition at the end of the March quarter was at 14.1%, reduced by 330 basis points.
Fellow large-cap IT firms, TCS and Infosys, have also voiced concerns about the sector's outlook this FY after both companies saw a significant cut-down in client spending -- particularly in the banking, financial services and insurance (BFSI) sector.
While Infosys missed its FY23 revenue growth target, TCS missed its 25% Ebit margin target for the last fiscal. Infosys has also cut its FY24 guidance drastically to the range of 4-7% against 7-11% last FY.
"We closed FY23 with the strongest-ever bookings recorded in a year. We delivered two consecutive quarters of total bookings of over $4.1 billion. Our large deal order booking grew by 155% year-over-year for the quarter. Compared to just a few years ago, we are seeing a visible change in the structure of our deals and our market position. We are winning large transformation deals, benefitting from a consolidating market, and deepening relationships with existing clients," said Thierry Delaporte, managing director and chief executive officer, Wipro.
Commenting on the 16.3% Ebit (earnings before interest and taxation) margin, chief financial officer Jatin Dalal said, "We continue to maintain our focus on operational improvements and productivity enhancements which led to our IT services margin exit at 16.3% in Q4 despite macro headwinds. We generated strong operating cash flows at 121% of our net income for the quarter."
Wipro's stock ended flat with a 0.04% drop, closing at ₹374.35 apiece against a gaining BSE IT index that rose 0.6% on Thursday.

---