Red Hat announces generative AI-based enhancement for its IT automation platform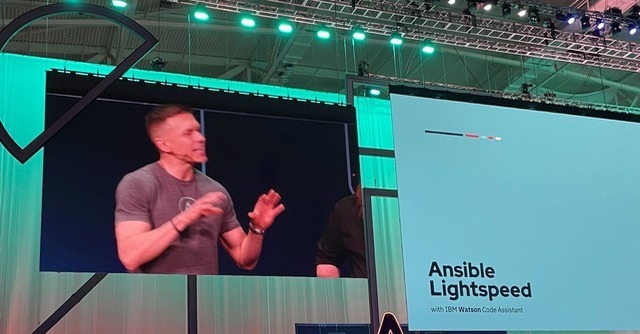 Open-source enterprise software solutions provider Red Hat announced several generative artificial intelligence features for its existing automation tool Ansible at its annual summit in Boston.
Red Hat introduced Lightspeed with IBM Watson Code Assitant for Ansible which will help novice users to automate tasks and relieve them of the burden of low-level task creation. Using natural language processing, Ansible Lightspeed will integrate with IBM Watson Code Assistant to access IBM foundation models and build automation code.
As per Red Hat, Ansible Lightspeed has been built with developers and operators in mind. Using a straightforward English prompt, the feature aims at significantly boosting productivity for Ansible users. It will also make it easier for users to translate their domain expertise into YAML code for creating and editing Ansible Playbooks.

"That's what we're doing with Ansible Lightspeed: giving people a capable technology that's intelligent yet understandable enough for developers and operators to use automation in new ways and for users to employ their existing knowledge so that a vision can come to life. This brings AI to life in your own domain. And most importantly, it's immediately capable, because your own experiences trained it," said Ashesh Badani, senior vice president and chief product officer, Red Hat.
Further, Red Hat also announced new capabilities OpenShift AI platform, which is the evolution of its flagship application container called OpenShift. The platform now offers a consistent and scalable foundation based on open-source technology for IT operation leaders. It provides a standardised foundation for creating production-ready AI models, as well as running the resulting applications.
"Red Hat's vision for enterprise AI builds on this existing reality with Red Hat OpenShift AI, which provides a flexible and scalable foundation to train, maintain, fine-tune and actually use foundation models in production. Best of all, OpenShift AI is still OpenShift, meaning that IT organisations trust it and understand it, and can extend their AI/ML operations from meeting today's needs to tomorrow's," said Chris Wright, chief technology officer and senior vice president, Global Engineering, Red Hat.

The enhanced OpenShift AI platform is also the basis for generative AI capabilities of IBM's platform watsonx, introduced this month. With OpenShift AI, Red Hat wants to offer a collection of tools to meet the training, serving, and monitoring needs of AI.
Speaking further about generative AI and its evolution, Red Hat CEO Matt Hicks spoke about how it democratises innovation. He also said that open-source would become a made driver for further adoption of generative AI. Hicks emphasised the need for governance around the technology.
---