OpenAI's chief Sam Altman meets PM Modi, discusses startup ecosystem's benefits from AI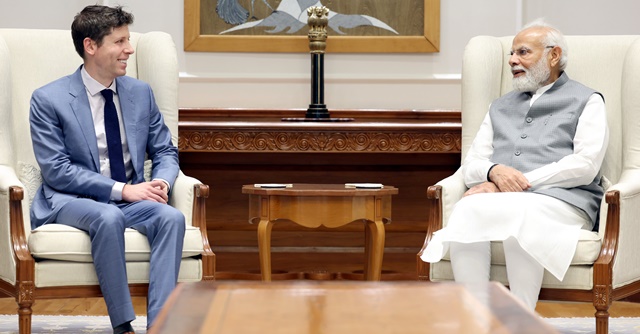 Sam Altman, chief executive officer of ChatGPT's parent company OpenAI, on Thursday met Prime Minister Narendra Modi in New Delhi to discuss the potential of artificial intelligence (AI), and the need for global regulation.
"Great conversation with @narendramodi discussing india's incredible tech ecosystem and how the country can benefit from AI. Really enjoyed all my meetings with people in the @PMOIndia," Altman tweeted earlier today.
Replying to his tweet, PM Modi wrote, "Thank you for the insightful conversation @sama. The potential of AI in enhancing India's tech ecosystem is indeed vast and that too among the youth in particular. We welcome all collaborations that can accelerate our digital transformation for empowering our citizens."
Earlier, on Thursday, Altman, during a session at Indraprastha Institute of Information Technology (IIIT), Delhi, said that the company is committed to backing startups in the country.

"We were always amazed and quite grateful for the quality of Indian startups," Altman said at the event, adding that he had met some startups in India on his recent visit.
He further added, "We talked about the opportunities for AI in India and also the need to think about global regulation."
Altman, whose firm OpenAI is behind the surge in interest in generative AI around the world off the back of popular chatbot ChatGPT, visited India at a time when union minister of state for electronics and information technology (IT), Rajeev Chandrasekhar, said in industry consultation sessions in Bengaluru and Mumbai last month that the upcoming Digital India Act will look to regulate the use of AI in specific cases — in order to prevent self-harm.

In a blog post on 22 May, OpenAI proposed the creation of an international authority, similar to the International Atomic Energy Agency (IAEA) responsible for overseeing nuclear power, to monitor and regulate the development of advanced AI.
Furthermore, on 7 June, industry body Nasscom released guidelines for 'responsible' use of generative AI by developers and researchers.
Nasscom also projected in February this year that the overall AI employment in India is estimated at about 416,000 professionals. The growth rate for the sector is estimated at about 20-25% annually. It also projected AI and related industries to contribute $957 billion to India's economy by 2035.

---