Wipro Q1 Results: Net profit rises 11.9% YoY to ₹2,870 cr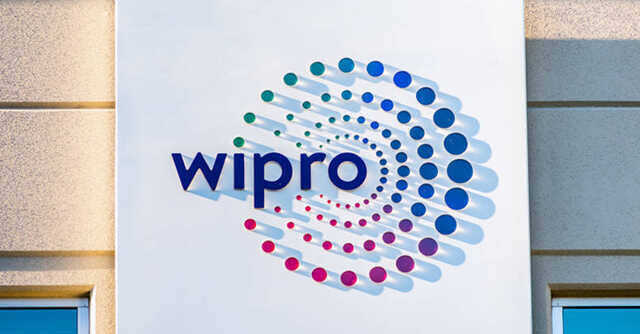 IT services firm Wipro on Thursday reported 11.9% year-on-year (YoY) rise in consolidated net profit at ₹2,870.1 crore in the quarter ending June 30 (Q1FY24) compared to a consolidated net profit of ₹2,563.6 crore in the year-ago period (Q1FY23).
However, sequentially the net profit was down 6.65%. Income from operations for the quarter stood at ₹22,831 crore, up 6% YoY and down 1.5% quarter-on-quarter (QoQ), the company said in its exchange filing.
Thierry Delaporte, CEO and Managing Director said, "Wipro's first-quarter results come with a strong backbone of large deal bookings, robust client additions, and resilient margins."
He added, "Despite a gradual reduction in clients' discretionary spending, we maintained new business momentum."
The total order wins for the quarter stood at $3.7 billion and large deal bookings stood at $1.2 billion, up by 9% YoY, the highest in last eight quarters, said Delaporte.

Wipro said that its IT Services segment revenue was up 0.8% YoY to $2,778.5 million. Revenue for the IT Services segment fell 2.8% in constant currency (CC) terms, in line with the earlier guidance.
Wipro has guided for IT Services business segment revenue in the range of $2,722 million to $2,805 million for the ongoing September quarter. This translates to a sequential guidance of minus 2% to 1% in constant currency terms.
"Businesses have been reducing discretionary spending in response to weak macro environment and this has had an impact on our revenues as well," Delaporte said adding that "hi-tech and banking, financial services and insurance (BFSI) were impacted most in this quarter due to softer discretionary spending.

Delaporte, however, pinned much hope on artificial intelligence (AI) and said that the "launch of Wipro ai360 and the $1 billion investment solidifies Wipro's position as a leading transformation partner that delivers the results and innovation our clients need to future-proof their businesses."
Jatin Dalal, Chief Financial Officer at the company, said, "Our ongoing focus on operational improvement has ensured that margin remains steady even in a softening revenue environment. Our operating margin for the first quarter was 16% an expansion of 112 basis point YoY. We generated strong operating cash flows at 130% of our net income for the Quarter. EPS for the quarter grew by 11.5% YoY."
The company also said that voluntary attrition has continued to moderate quarter-on-quarter, coming in at an 8-quarter low of 14% in first the quarter of FY24. The company did not onboard any freshers in Q1 and will calibrate hiring on a quarterly basis.

Delaporte however mentioned that the company is investing in people and tech to build a more agile organisation.

Among geographies, Americas 2 saw a 3.7% sequential drop in growth, followed by APMEA 2.5% (degrowth), Europe 1.5% and Americas 1%. On YoY basis, Europe was 5.5% growth while Americas 1 registered 1.2% growth, the company said.
"Wipro posted a tepid result, with revenue missing market estimates but focus on operational improvements and productivity enhancements kept bottom line on the growth trajectory," Dhruv Mudaraddi, Research Analyst, Stoxbox, said.
"Globally, businesses have been reducing discretionary spending in response to a weak macro environment and was visible on the company's revenue as well. Further, the company announced a $1 billion investment in AI in the next three years which shows that the company is focusing to advance its foundation in AI, data and analytics capabilities," said Mudaraddi, but added that "the declining attrition and robust growth in deal bookings augur well for the company's future but current macro headwinds and degrowth in revenue is a cause for worry.


---