Infosys misses profit estimate in Q1, cuts FY24 guidance to 1-3.5%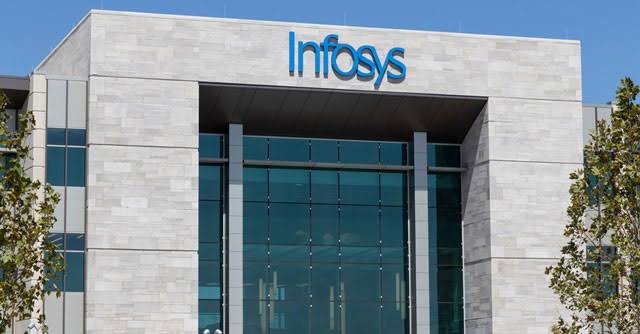 Bengaluru-headquartered information technology (IT) services firm Infosys on Thursday missed Street expectations, while posting the weakest June quarter results since FY21. Revenue rose 1% sequentially and 4.2% year-on-year (YoY) in constant currency (CC) terms to ₹37,933 crore in the June quarter, while net profit for the quarter rose 10.9% YoY to ₹5,945 crore. Operating margin for the quarter was reported at 20.8%—in line with the company's guided margin of 20-22% for this fiscal.
Analysts polled by Bloomberg had projected quarterly revenue of ₹37,843 crore, and net profit of ₹6,245 crore. An investor note from 29 June by brokerage firm ICICI Securities projected Infosys' quarterly revenue to grow 0.8% during the period.
In its post-earnings press conference, Salil Parekh, chief executive of Infosys, revised the company's FY24 revenue growth guidance to 1-3.5%—down from the 4-7% guidance that Parekh gave during the company's FY23 earnings conference on 13 April.

"Even as we won two mega deals recently, we maintain a pipeline of strong large and mega deals. We see revenue from several of these towards the later part of FY24. Keeping that in mind, we're changing growth in this financial year to 1-3.5% in CC. We have launched a broad, comprehensive margin expansion programme, which will work across five areas—pyramid efficiency, automation, improvement in critical portfolios, reducing indirect cost, and communicating and deriving value across our portfolio. We have an ambition to improve our operating margin in the future period," Parekh said at the post-earnings conference.
Nilanjan Roy, chief financial officer of Infosys, added that operating margins during the quarter "were resilient in an uncertain macro environment." He attributed this to a "continued focus on cost optimisation (and) rigorous operational discipline, including improved productivity measures and higher utilisation helping margins for the quarter."
While the revenue growth for the quarter came in line with expectations, it is the revised guidance for FY24 that alarmed analysts.

Omkar Tanksale, senior research analyst at brokerage firm Axis Securities, said that the guidance revision could imply "a difficult year ahead" for the company. "The company did disclose total large deals worth $2.3 billion, which is good and offers a chance for execution, but this still does not augur well for the company right now. They can still ramp up deal execution for the next couple of quarters—the third quarter might be a big one, if Infosys can execute these signed deals well," he said.
Tanksale added that some of the weaknesses reported by Infosys during the June quarter are "company-specific risks".
"The common near-term headwinds remain the same for the entire industry. But, the kind of sluggishness that Infosys spoke about today was definitely unexpected," he said.

Sanjeev Hota, head of research at brokerage firm Sharekhan, said that "delay in deal signings" and "softness in discretionary portfolio" were the key factors behind the negative revenue guidance revision. The brokerage gave Infosys a "negative read-through" rating for its stock performance going forward, projecting it to "lag industry-level growth to peers such as Tata Consultancy Services (TCS) and HCLTech".
Tanksale and Hota's projections were in-line with Parekh's statement, who said, "In the short term, we see some clients stopping or slowing down transformation programmes and discretionary work. This is especially so in financial services, mortgages, asset management, investment banking and payments, as well as telecom. We also see some impact in hi-tech, and in parts of retail."
Analysts that Mint spoke with stated that Street expectations prior to earnings had expected revenue guidance revision to come in the range of 5-6%.

In terms of business segments, two of the top three industries, which contribute over 54% of Infosys' revenue, saw annual declines. Revenue from financial services declined by 4.2% YoY in CC terms, while communication declined by 5.6% YoY. Manufacturing and life sciences were the only two sectors that saw double-digit YoY revenue growth during the June quarter.
In terms of clients, the number of $100 million-plus clients in Infosys' portfolio dropped by two this quarter, and presently stands at 38. In terms of its employee base, the total employee base declined by nearly 7,000 during the quarter, even as attrition dropped by 3.6 percentage points to 17.3%. Bench utilisation, including trainees, rose 2.3 percentage points to 78.9%. Employee benefit expenses rose 2.3% sequentially and 13.3% YoY to ₹20,781 crore.
Infosys also disclosed $2.3 billion of large deals signed during the quarter, with Parekh affirming that 56% of the large deals' total contract value (TCV) came from new deals signed during the quarter—including one 'mega' deal win.

Interestingly, Parekh added that Infosys already has 80 active generative artificial intelligence (AI) projects, and has trained 40,000 employees in the field.
"We're delighted that Topaz, our generative artificial intelligence (AI) platform, is resonating well with our clients. We are working on 80 generative AI projects for our clients at this time. The work we're doing covers large language models (LLMs), text, documents, voice and video. Internally, we've developed generative AI tools based on open-source models of generative AI platforms that are focused on software development. We've trained 40,000 employees in this area, and we see generative AI to be transformational for all of our clients," he added.
Shares of Infosys closed at ₹1,448.85 apiece on Thursday, down 1.73%. The 30-share BSE IT index closed at 31,483.86 points—down 0.81%.

---