Spend-IT: Airtel bets big on digital technologies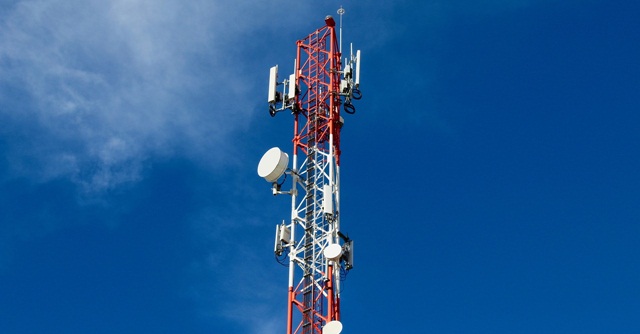 Bharti Airtel or more commonly known as Airtel is one of the leading telecom services provider in the country. One of the largest telecom provider in India, Airtel has a customer base of over 375 million (by December 2022), while also having significant presence in regions like South Asia, Africa, Channel Islands.
The New Delhi–headquartered company claims to be a technology-forward company. While the information technology expenses of the company dropped by 44% – going from ₹777.1 crore in 2018 to ₹433.7 crore in 2019, since then, it has only seen a gradual increase. Between 2022 (₹535.8 crore) and 2023 (₹657.9 crore), the IT expense of the company increased by about 23%. This is against the total expenses of the company which rose by only 15% for the same period.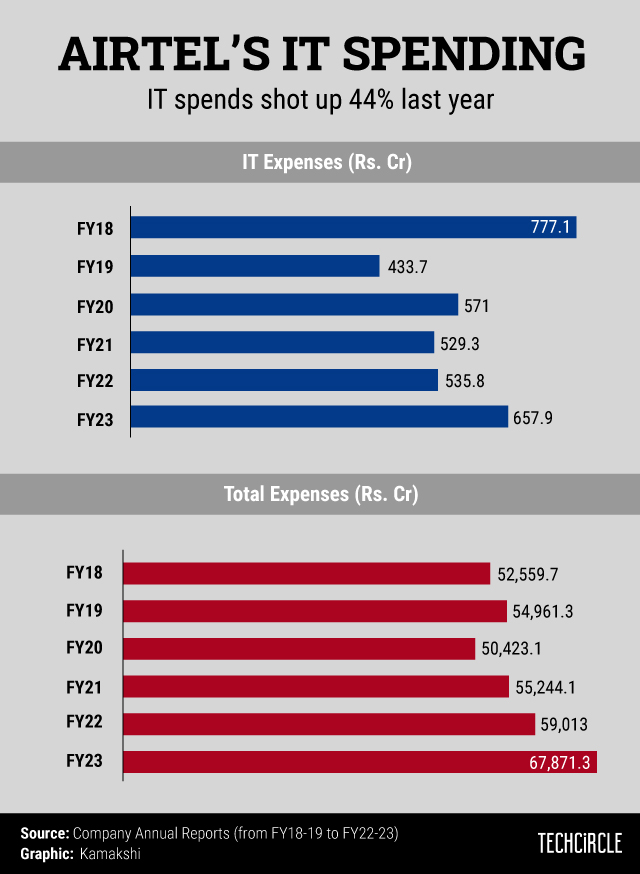 In the annual report for FY23, the chief executive officer and managing director of the company Gopal Vittal said that Airtal has adopted a three layered business model based on a digital foundation that includes digital infrastructure, digital experience, and digital services.
Airtel also has ongoing partnerships with some of the leading technology companies like Google, Amazon, Ericsson, Microsoft, Meta, Oracle, and Qualcomm. For instance, in June, Airtel partnered with Google-parent Alphabet to provide high-speed internet access to remote villages in India using laser-based technologies under Project Taara.
Airtel offers a network of data centers through its subsidiary Nxtra Data. As of FY23, it has 12 large and 120 edge data centers in the country that serves 400 clients. Airtel announced that it will invest ₹5,000 crore in the next few years to build hyperscale data centers in Mumbai, Pune, Bengaluru, Hyderabad, NCR & Kolkata. The new centers are expected to increase Nxtra's installed capacity by two times to over 400MW. IBM and Airtel have announced recently that they will work together to deploy latter's edge computing platform to help large enterprises across to sectors to scale innovation and operate securely at edge.

Further, Airtel is the first telecom provider to roll out 5G services in the country after the government of India launched it in October 2022. There are more than 31 million 5G-enabled smartphones on Airtel's network. "India's digital economy continues to grow at a strong pace and Airtel has been investing heavily towards accelerating the same," said chairman Sunil Bharti Mittal. "Airtel is collaborating with top enterprises engaged in manufacturing, mobility, healthcare, logistics, and IoT, where 5G tech is becoming a catalyst for digital disruption, creating new revenue streams in the industry."
Overall, India is one of the world's largest telecom markets with a total subscriber base of more than 1170 million as of December 2022. With the advent of 5G and other emerging technology, telecommunication sector is also expected to create more jobs in such areas. As per Telecom Sector Skills Council (TSSC) from January 2023, India will need about 22 million skilled workers in 5G centric technologies like internet of things, artificial intelligence, and cloud computing.
---