Meta launches WhatsApp Channels: Here's how businesses can take advantage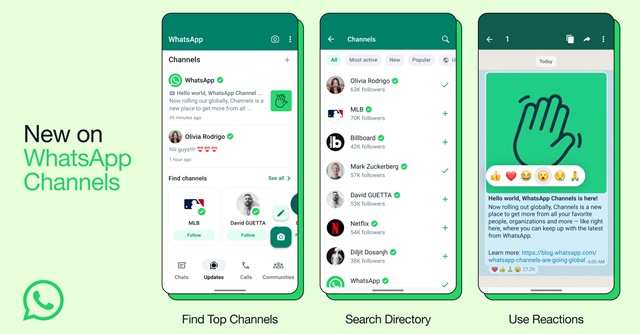 Meta, the parent company of social media platform Facebook and WhatsApp messenger, has introduced a new WhatsApp feature in India called "Channel". The feature was launched on September 13 which is actually a one-way broadcast tool for the admins to send text, photos, videos and stickers etc.
The new update works much like Telegram groups where admins keep sending text, videos, links etc. for their followers.
Now when the feature is available in India, here's how businesses can leverage it.

What is WhatsApp Channels?
WhatsApp Channels is a newly launched feature by Meta that allows users to follow private updates from organisations, businesses, and other people. Channels are actually one-way broadcast tools that enable admins to post updates but user can only see and follow restricting them from sending reply or message.
The updated feature can be found in a new tab called Updates on WhatsApp. To follow a channel, one will have to simply tap on the "+" button in the Updates tab and search for the channel of their interest.

Channel admins will be able to send text, photos, videos, stickers, and polls to their followers.
What you get?
Enhanced directory: WhatsApp has improved its directory for the new feature making it easier for users to find Channels they are interested in.

Emoji reactions: The feature however restricts followers to reply on the updates but opens way for them to react with emojis.
Editing option for admins: Admins will also have an option to edit their channel's description and icon.
These apart, WhatsApp has also launched an official channel for direct communication about product updates for the comfort of users.

How enterprises can use the feature?
WhatsApp Channels can help businesses to expand their reach in numerous ways:
Reach a large audience: Enterprises can take the benefit of WhatsApp's large user base which is over 2 billion globally. WhatsApp Channels can be used to reach a large audience of potential customers and partners.

Target specific demographics: The new feature allows organisations to target their messages to specific demographics, such as age, location, interests, etc. This means, companies can reach to the people who are most likely to be interested in their products or services.
Personalised content: The organisations can also provide personalised content to each follower as per the requirement or interest. Personalised content is more likely to be engaging and effective than generic messages.
Relationship building: WhatsApp Channels can be an effective tool for the enterprises to strengthen relationship with their customers. They can send regular updates and engage with followers to create a sense of community and loyalty.

Improve customer service: Enterprises can use this feature to provide customer support to people in more convenient and efficient way. Customers can contact customer support directly and receive a quick an easy assistance.
Increase brand awareness: Companies can also share their brand stories, products, and services with a larger audience to increase their brand awareness and attract new customers.
Generate leads: This feature can also be used to collect leads from potential customers.
---