In Charts: How tech spending in Indian healthcare sector has accelerated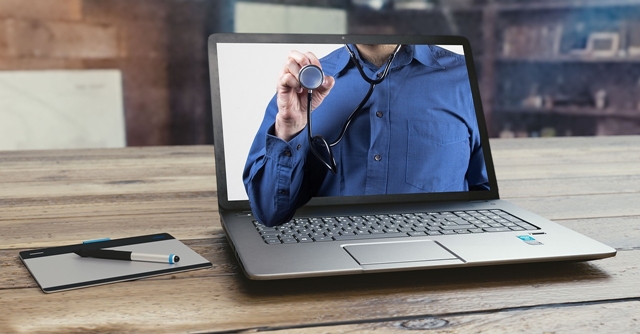 The healthcare industry in India has witnessed significant disruptions over the last five years and has undergone a transformative phase, catalysed by the Covid-19 pandemic. Industry stakeholders say technology is now taking centre-stage in the board rooms of health companies not just as an efficiency enhancer but also as a critical way of doing things.

Not surprisingly, total IT spending in the Indian healthcare sector has gained pace with the annual growth rate doubling over the last three years, as per data collated by technology market research & consulting platform SalesEdge.

The total annual spends on technology by the sector across both traditional and digital channels rose by a fifth for the third consecutive year to ₹22,465 crore or around $2.7 billion during the year ended March 2023.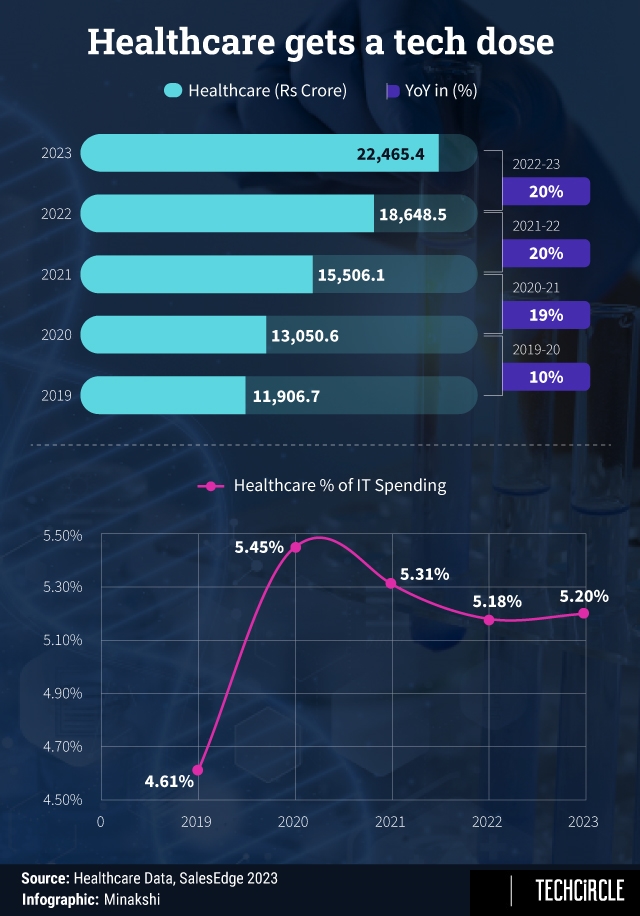 If we look at the data by type of tech spending, traditional IT spending that comprises aspects like hardware, software and other services, remains the prime driver of what CIOs and CTOs of healthcare companies put their money on.

But digital tech spends is fast becoming a focal area for decision makers. Digital tech spending in the sector has more than doubled since FY19, growing a tad ahead of the total IT spending.

Interestingly, while traditional tech spending had grown almost in tandem with digital tech spends in the first year under the pandemic, the divergence is showing clearly since then.

While the IT spends growth under traditional heads has been decelerating, that under digital technologies comprising aspects like cloud, analytics, cognitive, enterprise mobility, AR/VR, trust, social, IoT, blockchain & 3D printing, has stayed out around 20%, lifting the total IT spends in the healthcare sector.

Healthcare experts see an increase in tech investments in the form of AI/ML, augmented and virtual reality, as well as various other virtual care options, having the potential to revolutionise healthcare in India by improving access, affordability, and the quality of healthcare services.

A report by Boston Consulting Group (BCG) and B Capital, published on 2 November, also noted that the digital transformation of India's healthcare industry has the potential to accelerate tenfold, from $2.7 billion in 2022 to approximately $37 billion by 2030. This is being driven by rapid digitisation, the proliferation of innovative healthtech platforms, partnerships between startups and established companies, and favourable funding environments for viable business models, supported by government initiatives.

For a long time, the healthcare industry has focused on offering treatment after complications arise, with most work being done face-to-face. However, with the onset of Covid-19 and the increase in medical emergencies, investments in healthcare technology have shifted towards digital healthcare due to the pandemic, as patient-doctor interactions mostly became online.

At the same time, innovative schemes such as the launch of the government's flagship Ayushman Bharat Digital Mission (ABDM) in 2020 have pushed technology adoption in this sector. The ABDM aims to create a comprehensive, integrated digital healthcare ecosystem and move towards a uniform, robust, and transparent framework for patient identification across healthcare providers.
---