How Teleperformance bounced back in India after four years of shrinking biz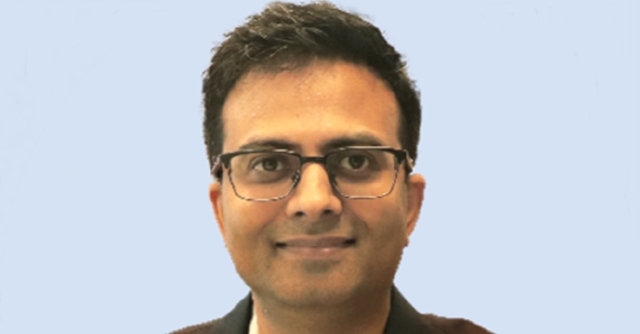 French digital business services firm Teleperformance took a big step to build its business in India five years ago. It acquired Mumbai-based BPO company Intelenet, which specialised in outsourcing customer relation management contact centers, from private equity firm Blackstone.
To be sure, it was not the first time it sewed an inorganic growth move with an Indian tech firm. For Teleperformance, this marked the second big India-related transaction within four years. In July 2014, it had agreed to acquire BPO company Aegis Ltd's operations in the US, the Philippines and Costa Rica from Essar Group for $610 million.
Founded in 2000, Intelenet had thousands of employees in over 40 delivery centers across India, the Philippines, the United Arab Emirates, Poland and Guatemala at the time of the acquisition. It was providing omnichannel customer experience management, back-office, human resources and financial and administration services. The company primarily serves the banking, financial services and insurance sector, besides the travel, transport and accommodation, e-commerce, e-services and healthcare sectors.

Teleperformance chairman and CEO Daniel Julien said in a statement back then that Intelenet's "strong integrated solutions and digital optimisation capacities will immediately and significantly enhance" the French company's offerings.
Intelenet did scale up in the first year after the deal was announced. It hit its peak revenues of over ₹3,400 crore in the year ended March 2019. But the firm has faced a growth challenge since then, numbers reveal.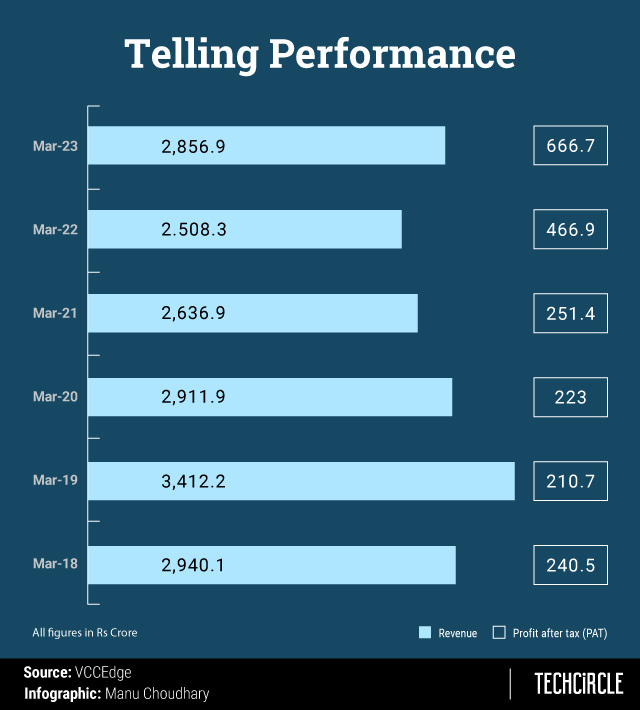 Teleperformance did not comment on a questionnaire sent by TechCircle.
Now renamed as Teleperformance Global Services Pvt Ltd, it hit a rough patch even before Covid-19 pandemic struck the world.
The company saw three consecutive years of decline in consolidated revenues before bouncing back last year. Although it is yet to attain the previous peak in terms of its topline, thanks to some business discontinuation in Middle East, the company saw its net profit hitting a new high.

The company had previously laid off a good chunk of its employees, reported to be in thousands, in India. It had attributed the layoffs to a decline in demand for services from its clients due to the pandemic.
The consolidation phase
Teleperformance started rebuilding its operations in India in 2022 – the year when the company also launched new sites in Gurgaon, Mohali and Hyderabad, forging ahead with plans to add an additional 20,000 employees to its workforce. The company also mentioned it aims to hit the 100,000-emloyees mark by FY24.

The company also developed a hybrid service model in 2022. The same year, globally as well as in India, it started reorganising the existing sites and continued to offer work-from-home solutions to employees. As of December 31, 2022, some 50% of employees were telecommuting, according to a company filing.
Further, in October 2022, Teleperformance acquired US-based PSG Global Solutions, a leader in recruitment process outsourcing, for $300 million, to build deeper expertise along its adjacent lines of business, industry verticals, and digital capabilities.
Overall growth was impelled primarily by the renewed momentum in offshore activities in the Philippines as well as in high value-added offshore activities in India.

Robust growth and expansion
In India, the company aims to hire about 60,000 people in the next two years as it expands operations in the country. This expansion would take the total employee strength to 150,000 from about 90,000 employees in India as of today. It is not clear how many of these are part of the Intelenet business.
Currently, the company has centres in locations like Gurugram, Hyderabad, Mumbai, Chennai, Jaipur, Indore, and Mohali and is mulling to open additional centers in Noida, Bengaluru, Pune, and Hyderabad to fuel its growth plans.

Anish Mukker, CEO of Teleperformance in India, said in a press release dated April 2023 that India is a strategic talent hub for the company due to its skilled workforce. The company focuses on the banking, financial services & insurance (BFSI) and travel and hospitality sectors in India, aiming to provide better customer experience and citizen services.
Teleperformance is also seeing interest from healthcare, high tech, retail companies, and state government agencies. The company has about 30,000 people serving local India clients.
Globally, Teleperformance has pursued acquisitions to support its growth trajectory, including the planned acquisition of rival Majorel for €3 billion. Meanwhile, the company also plans to leverage AI through partnerships with startups rather than acquiring them.
---