Hungryzone.com Rebrands As JustEat.in, Launches Ops In Mumbai

Restaurants listing site Hungryzone.com has officially changed to Justeat.in, after the London based Just-Eat acquired 60% stake in Achindra Online Marketing Pvt Ltd last month. It now offers users in Mumbai online ordering and table booking. The logo has changed - gone is the chef's hat, the hand holding a fork.
Hungryzone.com was launched as an online restaurant listings and ordering website in 2006. The website was relaunched in May 2007 with a new UI and in August 2008, it received its first round of investment from Indian Angel Network. It has a registered customer base of 100,000 users and offers restaurant listings, reviews as well as online ordering. JustEat.in today claims it has 100,000 registered users placing 10,000 home delivery orders. While listings are available for 10,000 restaurants in 10 cities including Bangalore, Bhopal, Kolkata, Chandigarh, Goa, Indore, Hyderabad and Jaipur, online placing of orders for home delivery was only available in Bangalore. This has now been extended to Mumbai. Delhi will follow shortly and 3 more cities will be covered next.
"After our stint in Bangalore, we are looking forward to cater to the food lovers across India and Mumbai was easily our first choice given the kind of hectic life people lead and the frequency of eating out," said Ritesh Dwivedy, founder of Hungryzone.com and now CEO of JustEat.in.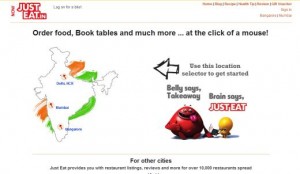 The Just-Eat brand, which was launched in 2000, is foraying into more countries. It now has a presence in 10 countries - UK, India, Denmark, Sweden, Belgium, Spain, Netherlands, Ireland, Norway and Canada. It is readying to launch in four more countries this year including one in Latin America.
"The acquisition of a controlling interest in JustEat.in marked the first step of Just-Eat's expansion into Asia. This move to expand our business to Mumbai is the first step we are taking towards being present in all the metropolitan and metropolis in India," said David Buttress, Managing Director, Just-Eat.
JustEat.in's revenue model is based on orders and ads form a negligible share of its revenues. Revenues from commissions will be the focus for the company going forth. It competes with Infomedia 18's Burrp.com and Zomato.com, which received Rs. 4.7 crore from InfoEdge and which also underwent a brand change from Foodiebay.com. In the online food ordering space, Just Eat competes with Takeaway.com (UK) and Seamlessweb.com (US).
Comment(s)