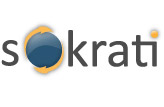 Digital marketing and analytics provider Sokrati has received its first round of funding or Series A from Inventus Capital Partners. The amount raised was not disclosed.
Samir Kumar, Managing Director, Inventus Advisory Services (India) and John Dougery, MD of Inventus Capital Partners will join the company's board.
Sokrati was founded in Pune in January 2009 by ex-Amazonians Ashish Mehta, Anubhav Sonthalia and Santosh Gannavarapu. While Mehta was part of the Paid Marketing Team at Amazon.com where he managed channels like comparison shopping, search and affiliate networks, Sonthalia was employed in the programme and product management division and Gannavarapu was on the technology side working on software that powered Amazon's affiliate marketing. Sokrati also has an office in Seattle, US.
"We liked the passion of these entrepreneurs to build a large company in the digital marketing space. This, coupled with their Amazon background and their considerable traction with advertisers, makes us sanguine about their prospects. We believe they will emerge as a leading global player in this space," said Kumar.
Inventus' investments in India include Vizury, another Internet marketing company, mobile digital media firm TeliBrahma, hospital management and electronic medical records solutions company Insta Health Solutions, online bus ticketing provider redBus and FundsIndia, an online financial transaction platform.
Sokrati offers an automated platform for search and social media marketing. It targets advertisers in ecommerce, travel and classifieds. Among its clients are MagicBricks.com, SimplyMarry.com, Fashionandyou.com and Yebhi.com. Currently Sokrati's platform delivers 15 million impressions per day within the paid search marketing channel, according to the company.
"The funds will be utilized to expand our reach internationally and build a unified, scalable and intelligent online marketing platform for advertisers and agencies alike," said Ashish Mehta, CEO, Sokrati.
Sokrati claims it improves performance by 40% within six weeks when compared to other search marketing platforms and tools available in the industry. It also offers a free audit programme that will provide "missed opportunities" and data on improvement factors on existing search campaigns.
---