Games2win Raises $6 Million To Ramp Up Content, Operations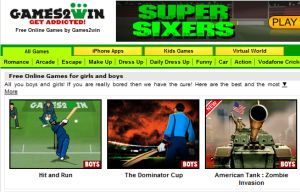 Games2win, an online gaming company, has raised $6 million in Series B financing from Clearstone Venture Partners and Silicon Valley Bank (SVB India Capital Partners). While the amount of the stake sold is not known, Alok Kejriwal, co-founder of the company, told our sister site VCCircle that the promoter group continues to own one-third stake in the company.
Games2win was founded in 2007 by serial entrepreneurs Alok Kejriwal and Mahesh Khambadkone. This is the second round of funding for the company that raised the initial capital from the same set of investors. Typically, when an internal round of funding is done, there is a risk of valuations getting squeezed. However, "it is not a down round," clarified Kejriwal and added that he "did not want to shop around in the Valley" but essentially wanted investors on board who understood the dynamics of the space.
The company broke even in 2011 but Kejriwal feels that they will not be able to sustain this trend as the burn rates are going to be very high due to their massive hiring plans. Games2win currently employs 70 people and plans to ramp up its capabilities to about 120 people in the next six months.

The money raised would be essentially used for three major purposes, explained Kejriwal. Firstly, the company is aggressively looking at building capabilities on the content side by hiring more people. As of now, the organisation owns 400 proprietary games and wants to add more games to its portfolio. Its games are licensed by the world's largest publishers such as Yahoo.com, Viacom Kids and the Discovery Channel. It follows a the labour arbitrage model where it has its content and technology team based out of India, but much of the revenue comes from the US and other markets.
According to Kejriwal, all gaming in the world will be free very soon and the trend is quite apparent as games are totally free on Android phones.
The business model of the company essentially depends on advertising. Considering the online advertising market in India to be at a nascent stage, much of the revenue comes from the international segment. That is why the company wants to opt for a predominantly international flavour and is also in the process of hiring a CEO for its global operations.

Secondly, more than content, it is increasingly becoming imperative as to how content is consumed. This is where the use of the correct technology platform becomes important. Games2win will look at acquiring a few companies or technologies which make the conversion from one technology platform to another. Kejriwal strongly feels that Android devices are coming up in a big way and a lot of migration from a mobile or a Symbian platform to Android is on its way.
Games2win has created a niche in the casual and social gaming arena and would like to keep it at that only.
Rajan Mehra of Clearstone Venture Partners who has joined the board of Games2win said, "We are really excited by the gaming opportunities in India. Plus, the momentum built by Games2Win in the development and distribution of games is globally competitive. We believe that the company is well-positioned to break even and become the number one player in the Indian casual and social gaming space as this category hits hyper-growth."

According to CEO Alok Kejriwal, "We really understand the mindset of a humungous 400-plus million teen and tween gaming audience on the Internet who nibble on our kind of games both on their PCs, iTouch and Android devices. The resurgence of mobile and the Internet in India is creating massive opportunities in the online gaming space and we are very well geared to dominate that space with our strong foothold here." Ash Lilani of SVB India Capital Partners said, "We are delighted to increase our investment in Games2Win. The team has done a fantastic job in positioning the company as a differentiated global player. We believe that Games2Win is poised to be a significant player in this segment."
---