Digital Camera Sales In India Spiked 69 per cent Year on Year in Oct-Dec 2010

The digital camera market in India witnessed a 69 per cent year-on-year growth in the quarter October-December 2010 compared to the same quarter in 2009. The segment reached an all-time high of 8,45,000 units sales, according to CyberMedia Research India.
Digital cameras priced below Rs.10,000 contributed to around 75 per cent of total sales in the country during the October-December 2010 quarter.
The continuous decline in Average Selling Values has led to a sharp rise in share of cameras sold with over 12 mega pixels resolution. Digital Single Lens Reflex (DSLR) cameras are most popular with the category registering the highest growth of 120 per cent year-on-year during this period.

Here's a Table of India Digital Camera Sales (in thousands) by form factor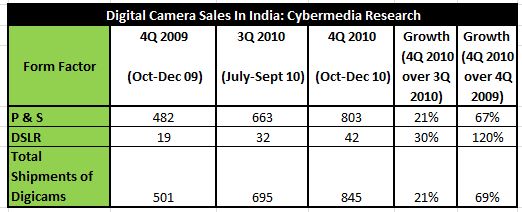 Anirban Banerjee, Associate Vice President, Research and Advisory Services, CyberMedia Research, said, "Multiple market forces have converged to drive the rise in sales of digital cameras in the India market in recent quarters. The most important ones are – increase in availability and sharing of digital content, increase in 'real' spending power and reduction in average selling values."

Increased Acceptance In Smaller Towns
"The vendors have found increasing acceptance of digital cameras amongst first time buyers in 'B' and 'C' class towns and have started to focus on strengthening their reach into these areas to further grow the market. This is expected to help the penetration of digital cameras to rise from the current level estimated to be below 5 per cent to 10 per cent by 2015" said Nikhil Khurana, Lead Analyst, India Digital Products Research, and CyberMedia Research.
Mobile Cameras

The number of mobile handsets with cameras sold in India during the same period was 304 lakh units or 63 per cent of all phones sold, as compared to 138 lakh units or 42 per cent of all handset sales in the quarter ended December 2009.
Market Shares
In the point-and-shoot category; Sony was on top with market share of 31 per cent in terms of unit sales during 4Q CY2010, followed by Nikon with 24 per cent, Kodak 13 per cent and Canon 12 per cent and in the Digital Single Lens Reflex (DSLR) category, Nikon was the leader with a 51 per cent share in terms of unit shipments during 4Q CY2010, followed by Canon with a 46 per cent share.

Categories & Growth
CyberMedia Research expects the Point-and-Shoot (P&S) camera category would grow at a CAGR of 30 per cent, the DSLR camera category would grow at a CAGR of 63 per cent and the overall India digital camera market would grow at a CAGR of 32 per cent in terms of units over the period 2010-2015. The India digital camera market would touch 41 lakh units in 2011, of which 38.4 lakh units would be P&S cameras, while the remaining 2.6 lakh would be DSLR cameras.
---