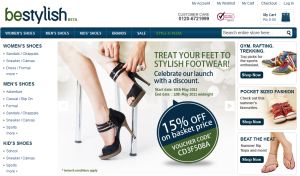 Smile Group, which runs the private sales site Fashionandyou.com and group buying site Dealsandyou.com, has launched yet another e-commerce portal, this time targeting the $5 billion footwear market in India.
BeStylish.com is the online shoe store by the Gurgaon-based group company Smile Sales Private Ltd.
BeStylish.com offers international, high street and regular shoe-brands and targets men, women and kids. The site claims to have 2000 styles across 50 brands. Some shoe brands available on the site are Woodland, Adidas, Buckaroo, Nike, Adams, Provogue, Franco Leone, PlayBoy, ID and Numero Uno.
Smile Group has roped in the CFO at market research firm Millward Brown (a WPP Group company) Shailen Amin as the CEO and co-founder of BeStylish.
Amin was responsible for Africa, Middle East & Asia Pacific at Millward Brown. Prior to that, he was a corporate finance manager for WPP's mergers and acquisition team. Initially, he was based in New York where he was one of three principals responsible for North American acquisitions and later based out of head office in London where he was responsible for rest of the world's M&A.
The other co-founder for Bestylish.com is Abhishek Lal who is also its Director Merchandise. Lal was previously Buying & Logistics Head for Intersport Middle East and has 14 years of experience in manufacturing, product development, range planning, retail buying and merchandising in the footwear industry. He has been employed at Unilever, Adidas, Puma & Intersport across different countries like India, Switzerland, Germany, UAE, Kuwait, Saudi Arabia & Africa.
The other Indian online shoe retailer Bigshoebazaar.com opted to diversify into apparel and fashion shop and rebranded itself as Yebhi.com. Manmohan Agarwal, co-founder of Yebhi.com had told Techcircle.in recently that the footwear market presented a large opportunity but is also a complex market for e-commerce. That could have been one of the reasons why Germany's largest online shoe retailer Zalando shut down its operations in India after investing in the venture for six months.
---