Facebook Launches Messenger Services App For iPhone & Android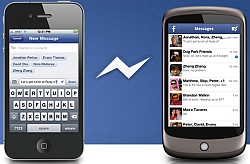 The world's largest social networking firm Facebook on Tuesday unveiled, Facebook Messenger, a free stand-alone messaging application for Apple's iPhone and Android devices, the company said on its official blog.
The Messenger app is an extension of Facebook messages, so all your conversations are in one place, including your texts, chats, emails and messages. Whether you're on your phone or on the web, you can see the full history of all your messages.
"We're introducing Messenger, a new mobile app that simplifies how messaging works, and gives you a faster way to message friends and small groups," Facebook engineer Lucy Zhang said on an official Facebook blog post.
Currently, there are more than 200 million active users accessing Facebook via their mobile devices.
When you're on the go, coordinating a bunch of people can be tricky, especially if plans change at the last minute. With Messenger, you can quickly start a group conversation and message everyone at once, Zhang said.
If you choose to add your location, the people you're messaging with can easily find each other on the map. You can also attach photos, so everyone else can see and comment on what you're looking at, the blog further added.
"The positioning has always been how we make Facebook messages more readily accessible and useable," Peter Deng, the product manager at Facebook in charge of the Messenger app, said.
Zhang is a co-founder of Beluga, a start-up founded by former Google employees that allows users to send group messages to family or friends.
Facebook acquired the mobile messaging company Beluga for an undisclosed sum in March 2011.
Comment(s)