AskLaila's CTO Bal Krishn Birla Quits To Launch Grocery E-Com Site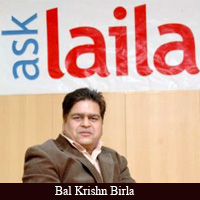 Birla"s LinkedIn profile mentions his new role as Zopper at ZopNow.com. Bal Krishn Birla, chief technology officer of local search portal Asklaila.com, has resigned from the company to establish an e-commerce company in Bangalore called ZopNow Retail Pvt. Ltd.
Earlier, Pluggd.in reported that Birla quit AskLaila. Birla was the chief technology officer of Asklaila.com between October 2006 and August 2011 and is armed with experience in building teams and delivering high quality products to enterprises and internet audience in record times.
Prior to AskLaila, he handled Potluck Restaurant as chief food officer and worked as a business head at Amazon Associates India. He has also worked as project manager at IT bellwether Infosys Technologies.
ZOPNOW
His new start-up ZopNow.com is a website that allows you to order from the neighbourhood local grocery stores, online casino which will be delivered to your door steps. ZopNow is in the process of launching its service in Bangalore in next few weeks.
The site promises delivery in less than three hours or at a pre-defined time specified by the customer. Customers can place the order either through telephone or the internet.
Techcircle.in had previously written in detail about another start-up that is offering grocery shopping in New Delhi called Aaramshop.com. Other sites which offer grocery shopping online are ChennaiOnlineGrocery.com and Infibeam's Grocery Section.
Of late, e-commerce is sizzling and entrepreneurship is at an all-time high in India. Already, it is a $5 billion market and according to IAMAI estimates, it is expected to touch $10.27 billion by the end of this year. At the last VCCircle E-Commerce Investment Forum in February, both panellists and audience had the unanimous opinion that e-commerce would be the next big thing in India and that a $1 billion business would be there in the next 2-3 years.
Comment(s)