CoCubes Bridges Companies And Campuses To Empower Students
Bagging a job is an all-too-tough hurdle for graduates in India. And that's an understatement for sure, given that there are more than 20,000 colleges in the country and there is always cut-throat competition even for a fresher's post. Student placement is still a painful procedure in most of these institutions, barring the top five per cent of the engineering institutes, such as the IITs and NITs. Yet more colleges are springing up every year and more pass-outs are seeking jobs. Is there a way to connect this never-ending demand to the job opportunities across enterprises?
Harpreet Singh Grover and Vibhore Goyal, alumni of IIT-Bombay, have the answer. Their start-up VIA Human Resource Solution Pvt. Ltd. has a platform called CoCubes.com that connects over 2,000 colleges to 300 companies and is growing at a fast clip. Techcircle.in brings you the story of how CoCubes went from nil to a run rate of Rs 20 crore in revenues (targeted for fiscal 2011-12) within just four years, the shifts in its business model and what's ahead for this online start-up.
The Website
CoCubes.com is an online platform that allows students to read and learn about enterprises and companies that are hiring at their campuses. They can 'follow' companies, in a similar fashion to job networking site Linkedin and stay updated about news, happenings and internship opportunities at the companies of their choice. Students can set up profiles with their resumes and share it with companies.
They also have access to videos and online test assessment tools of various companies which will allow them to prepare themselves for placements and increase their chances of employment. They can compare test scores with other students and rate themselves. Students can also participate in polls and view offer letters on the website.
Today, CoCubes has 300 corporates that use its services for hiring and 15 that are involved in both hiring and online engagement with students. These enterprises include Accenture, CMC Ltd, Cognizant, Punj Lloyd Group, Capgemini and Aricent.
Business Model
CoCubes has an annual fee model and charges colleges Rs 700 per student who is in his final year of studies. It is free for corporates, who are looking to increase their reach into tier-2 and 3 towns for candidates.
What it offers the corporate human resource manager is a professional online recruitment process. "There is a lot of inefficiency in the process of speaking to colleges. Companies do not know how many students will actually attend the placement process. There is a lot of confusion and miscommunication which we seek to eliminate by automating the entire process of placement for tier 2 and 3 colleges," says Harpreet S. Grover, co-founder and CEO, CoCubes.com. Individual students cannot register on CoCubes – this ensures that student information is authentic as it is sourced from the colleges.
He summarises the website's relevance with a comparison to online ticketing agencies who revolutionised flight ticket booking by bringing the entire process online. "What Cleartrip has done to booking tickets, we have done to campus hiring and engagement," he says.
Starting From Scratch
In February 2006, Harpreet Singh Grover was an analyst at a Gurgaon-based consultancy Inductis India Pvt Ltd when the idea of connecting colleges to companies germinated following a discussion with a college placement officer. The officer had detailed his troubles in getting companies to arrive for campus placements. Grover mulled the idea of a technology solution to solve this issue, and discussed it with his friend Vibhore Goyal. Goyal was then working at Microsoft Research India as an Assistant Researcher.
In August 2007, the two quit their jobs to begin work in earnest. Goyal was the coder (now CTO), and began building the platform while Grover was the salesman, talking to colleges and enterprises. They pooled in Rs 1 lakh each and worked from their homes for six months.
The first round of funding came in from Amanjeet Saluja, who was leading the consulting practice at Inductis. Saluja picked up two per cent equity stake in the start-up for angel capital of Rs 4 lakh. With this cash, CoCubes hired an intern in operations, a couple of coders and a salesman to interact with colleges. Soon, the growing CoCubes team shifted into an office inside the incubation centre of a college, which they occupied in exchange for 0.5 per cent equity.
In February 2008, CoCubes signed on an engineering college in Fatehgarh Sahib. Its first corporate client was the Gurgaon-based knowledge process outsourcing firm eValue Serve for an annual fee of Rs 2.2 lakh. Private college IILM Institute for Higher Education then signed onto the platform next, paying Rs 40,000 per annum.
Tough Times
There were rough patches along the journey. In May 2008, CoCubes received an offer for Rs 2 crore in funding from an angel investor, but the individual changed his mind about the investment after the term sheet was signed. "It was the first time we were raising this kind of capital and both of us were ill-advised. There was a difference of opinion in one of the clauses - he thought we were trying to control too much and broke it off," explains Grover.
But that wasn't all. Since the entire deal was being co-ordinated by their respective lawyers, CoCubes wound up with a bill of Rs 3.5 lakh to the lawyers. "And we had no money, we were back to step one," he says. "We asked our lawyers to give us six months' time to repay them and went back on the road. We had made some critical hires but did not have the money to pay them. It was the biggest realisation then that you have closed the funding round only when the money reaches your bank account." Grover is unwilling to offer advice to other entrepreneurs. After some cajoling, he says, "Stay focussed, and tough times will pass."
Staying Focused
By 2009, CoCubes had reached out to 45 colleges and 10 corporates. It had grown to a team of 12 and its revenues had risen steadily from Rs 4 lakh recorded in fiscal 2008-09 (ending March 2009).
In March 2009, Ojas Venture Partners, a Bangalore-based early stage investment fund, stepped in to invest $700,000 (which was around Rs 3.5 crore at that time) in CoCubes. The funds were used to pay off loans, the lawyers and scale up.
Marketing received a boost when Ojas introduced a top level hire - Sanjay Arora, then Vice President - Client Servicing and Marketing at CRP Technologies India - to CoCubes. Arora joined as the Chief Marketing Officer, heading corporate sales for the start-up.
Change In Model
When CoCubes began, the idea was to keep it free for colleges and charge companies. But over the last three years, Grover says, this turned on its head.
So far, the company had been charging both companies and companies for access to the website. While campuses had to pay Rs 30,000 per year, enterprises had to fork up Rs 5,000 per campus. But by  fiscal 2009-10, CoCubes had reached Rs 48 lakh in revenue and decided to change its model with feedback from its sales-force.
"It was the moment we had to ask ourselves - what next?," says Grover. They experimented with charging Rs 500 per student per annum, which resulted in a boost in revenues from Rs 48 lakh in revenue in fiscal 2009-10 to Rs 2.4 crore by fiscal 2010-11.
Online Engagement
One of the big makeovers that has essentially added value to the website is the launch of online engagement for large corporate houses. On the CoCubes site, corporate houses can upload photos and videos of their respective offices and publish polls and news to attract students and give them a glimpse into the corporate life. Take, for example, Accenture's custom page or that of Capgemini'son CoCubes. At present, there are 50,036 students from 1,093 colleges following Accenture while 8,189 students from 259 colleges follow Capgemini. The Cognizant page on CoCubes has 39,056 followers from 1,232 colleges.
But do we need another site when the Internet is full of news and information about these companies? Grover says that the target audience needs to be taken into consideration here. "We are talking about students from tier 2 towns – students who haven't heard about LinkedIn and don't know how to find information on the Web. Also, corporate sites are more attuned to executives, not students. Those students need a specialised portal, so that they can easily understand and absorb relevant information," he explains.
CoCubes is not a social media site, though. "No, that is not the intent," clarifies Grover. This is about students who don't know what a company does or what a job profile is. They simply sit through exams and tests. But even if they are spending time on social networking sites like Facebook and Twitter, we have tried to make this channel as interesting as possible while teaching them about careers. Employability is as much about knowledge and soft skills, as hard core technical skills that they learn in engineering," says Grover.
"India has a growing economy and is overlaid with the problem of employability, where students are being churned out but not accepted by corporate world. CoCubes is solving the fundamental step of information access," offers Gautam Balijepalli, Partner, Ojas Venture Capital Partners.
A management decision to focus only on engineering colleges was taken in 2010, aimed to help the company scale up comprehensively. Grover and Goyal are confident about their choices, having crossed Rs 4 crore in revenue already this fiscal. They also claim a run rate of Rs 18-Rs 20 crore for the fiscal 2011-12.
Competition
There are other companies that are trying to address the campus recruitment process with advertising-based models. Freshersworld.com by Cassius Technologies Pvt. Ltd offers a wealth of career information, resources on online tests and interview tips. It claims to have over a million resumes and connects to 1,000 companies. FirstNaukri.com is by Info Edge "the company behind top recruitment portal Naukri.com and real estate portal 99Acres.com. This is a job site for campus hiring and has partnered with 3,000 companies. There are also government initiatives in the USA and Australia offering such services.
CoCubes spends Rs 60 lakh-Rs 70 lakh per month, of which 66 per cent has been spent on human assets and the rest on technology. It has now separate teams for colleges and corporates while each relationship manager interacts with about 40 colleges.
What Next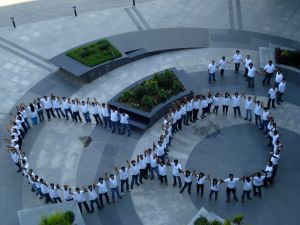 From an 82-strong team stationed across five sales offices – Delhi, Mumbai, Kolkata, Chennai and Bangalore – CoCubes plans to reach a total of 100 employees by end of this year. Profitability is the next goal and which Grover expects to reach the target by March 2012.
But there are still miles to go. Grover says that his KRA (key result area) for this year is to add more graduate colleges – among them is the lucrative nursing sector.
Although CoCubes offers to connect corporate clients to premier colleges through its platform, it is not the focus area of the company. There are 20,000 colleges in the country and 99 per cent of those are second and third tier institutions. And these happen to be the key focus area of CoCubes. "The aim of CoCubes is to connect the dots for students and help them build a successful career. The target is to help colleges increase employment and employability of their students. On the other hand, we will continue to reach out to companies and enable them to engage and hire from these colleges," concludes Grover.
Comment(s)