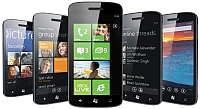 Microsoft Corporation India Pvt. Ltd. today launched its latest version (7.5 Mango) of Windows Phone operating system in India. The update comes with a new user interface called 'Metro' that has 'Live Tiles' and 'Hubs'. Microsoft also revealed a range of Windows Phone mobile phone devices that will be available in India soon, the first being the HTC Radar.
This will be followed by Samsung's Omnia W and other devices from Acer and Nokia. All the Windows Phone devices will be powered by the Qualcomm Snapdragon mobile processor and will come with a dedicated hardware button for Bing.
The conventional application icons have been replaced by Live Tiles in the new version. The Live Tiles will provide real-time updates (from the Web) with information such as news, appointments or even the status of friends. Also, users can create new Live Tiles from the content of their choice like applications, websites and music among others.
Various Hubs that bring together related content into a single view have also been provided in the new version. These include the People hub (for providing a central place from which users can post updates to Facebook, LinkedIn, Twitter and Windows Live), Pictures hub (it helps in sharing pictures and videos to social networking sites), Games hub (it has Xbox LIVE games, spotlight feed and lets the user see gamers profiles), Music + Video hub (for a better media experience), Marketplace hub (has over 30,000 apps and games) and the Office hub (it has mobile versions of Word, Excel, OneNote and PowerPoint which can synchronised back to SkyDrive, Office 365 or SharePoint sites).
"With the Windows Phone, we have brought an operating system that seamlessly integrates user experiences such as search, gaming, email and social networks across Bing, Office, Xbox LIVE, Facebook, Twitter and more," said Pramanik, Chairman, Microsoft India.
As of now, Google's Android is the most popular mobile operating system in the world for smartphones, followed by Apple's iOS. The success of the Windows phone OS will largely depend upon its convenience and user-friendliness. Also, the fact that the Windows phone will have an Office hub with mobile versions of Word, Excel, OneNote and PowerPoint will only add to its acceptability among professionals.
---