Vriti Spins Off IndiaHotelReview.com & ConnectIndia.in; Wants To Sell IHR For $5M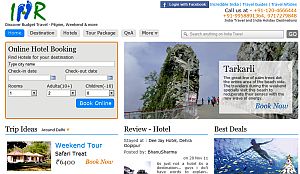 Intel Capital and Jafco Asia backed Vriti Infocom has spun off two websites as it seeks to strategically re-align itself as an education company.
Budget hotel booking and travel community site IndiaHotelReview.com (IHR) and ConnectIndia.in, a site that lets you compare mobile and Internet tariff plans and offers in the country, were spun off in October. Vriti also runs various educational communities such as GoIIT.com, GoCBSE.com, CollegeSearch.in, MyEducation.in and PMTPrep.com and now wants to strategically position itself as an education company. Update: Two of these websites - CollegeSearch.in and MyEducation.in have been discontinued, the company informs us.
"Vriti has decided to disinvest in non-core verticals and is aggressively looking for options to exit the two websites," said Ankit Rastogi, co-founder and business head of IHR Destinations Pvt Ltd.

Vriti has raised $7.5 million so far in two rounds of funding from Intel Capital and Jafco Asia. According to Rastogi, all the funds have flowed into Vriti's education portals.
Noida-based IHR Destinations runs IndiaHotelReview.com and is currently a 100 per cent subsidiary of Vriti Infocom. Vriti expects to sell it for $5 million within three months, according to Rastogi.
Vriti is now looking at three exit strategies for IHR. The first is to sell it to a private equity or venture capital investor. The second is a strategic partnership with large offline travel agencies who do not have an online presence yet. And finally, it hopes to sell to any international travel company that wants to rev up its India business.

IHR was launched in December 2006 and generated revenues of Rs 2.5 crore in the fiscal 2011. It is now at a run rate of Rs 6 crore for fiscal 2012.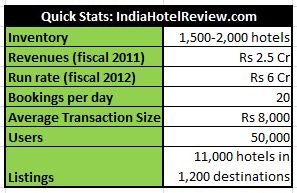 Indiahotelreview.com features listings of 11,000 hotels across 1,200 destinations, primarily tier II and tier III locations. It offers bookings for 1,500-2000 hotels and has deep relationships with a total of 3,000 hotels. It has focused on weekend getaways and pilgrimage destination tours, having tied up with several state governments in the country.
Starting with the J&K government in August 2009, IHR has entered into agreements with Maharashtra, Karnataka and Andhra Pradesh state governments to sell bookings for state tours. It has partnerships with more state governments in the pipeline. "IHR has matured over the past three years from hotels to tour packages, focusing on pilgrimages and specialty tours. State governments hold the largest inventory of huts, cottages and hotels at prime locations," explained Rastogi.

IHR also runs a community which has 5,000 reviews overall and is adding 3-5 reviews per day. It launched a YouTube channel that currently features 60 videos of tier II and tier III cities/towns which are witnessing increasing traction from both Indian and foreign travellers. It also offers specialty tours such as health tourism and even attempted Bollywood tours at one point.
The website witnesses an average of 20 bookings on a daily basis and an average transaction size of Rs 8,000, said Rastogi. It claims 50,000 users in all. Currently, around 20 per cent of its revenues come from booking of packages, 10 per cent from state government tours and the remaining is from hotel bookings.
---