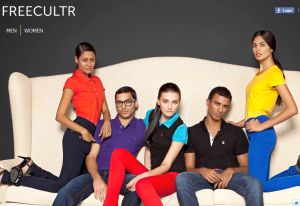 Sandeep Singh, one of India's many first generation Internet entrepreneurs who have seen the previous boom-bust cycle, has launched Freecultr.com an e-commerce site that sells its own brand of apparel and accessories and is online-only.
Singh until recently headed brand and media solutions at digital marketing services agency Quasar and was part of its founding team.
The website went live last week and offers pan-delivery. The site claims it ships the products within 2-5 days of purchase and offers free returns and free shipping on all orders over Rs 1,000.
Freecultr.com is Sandeep Singh's comeback venture. In 1999, he set up a local youth portal called Yankeedelhi.com which was one of the many casualties of 2000-01 dot com bust. Singh tweets @Zynx.
Freecultr only sells its own branded apparel, like Zovi.com, which pioneered the exclusively online clothing brand model in the country. Zovi.com was founded by the former Cleartrip senior vice-president of technology, Satish Mani. In July, Zovi raised  $5 million from SAIF Partners and a consortium of angel investors including MakeMyTrip founder Deep Kalra. It sells shirts, footwear and accessories for men.
The benefits of an online clothing brand are many – an e-commerce start-up can overcome the barriers to entry in the competitive offline retail world, avoid the supply chain inefficiencies and can immediately begin marketing and selling wares over the Internet.  However, competition could be right around the corner. Large e-commerce players could begin retailing merchandise under their own brands, similar to the offline world. Shopper's Stop, for example, sells apparel under its own brands – STOP, Kashish, LIFE, Vettorio Fratini, Elliza Donatein and Acropolis – along with national and international brands. Combined with loyalty programs and a mall-like inventory, such a move would prove damaging for smaller, niche clothing brands. Yet, online clothing brands can survive if their offerings click with the masses, like FabIndia. For now, we are taking a 'wait and watch' approach to see what happens. What is your take?
---