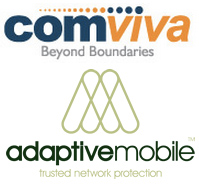 Gurgaon-headquartered mobile app and value added services (VAS) company Comviva Technologies Ltd has entered into a partnership with mobile security software and services provider AdaptiveMobile, to provide operators with a comprehensive network-based web and message content filtering solution. According to the company, the collaboration will help operators to leverage monitoring and advanced security techniques to protect their network, subscribers and enterprise customers against the mobile abuse.
The web and message content filtering function will allow service providers to perform complex assessments of the content of messages and data, looking for specific text combinations or even the content type (music and picture files). AdaptiveMobile's content filtering techniques will add another element of control over spam to aid in identifying and preventing fraudulent SMS/MMS and spam.
Manoranjan Mohapatra, CEO, Comviva, said, "With the ever increasing spam messages from unregistered telemarketers, mobile users are tired of unsolicited/pesky text messages. With this collaboration, Comviva will integrate AdaptiveMobile's message content filtering solution with its SMS platform and web content filtering solution with its mobile data platform."
"Text messaging, the most widely used mobile data service today is under attack with SMS spam, spoofing and other SMS-related scams and network congestion has become a major concern for service providers. We trust this integrated solution will help them address their network security problem," added Brian Collins, CEO, AdaptiveMobile.
Formed in 1999, Comviva's (a Bharti Group company that was earlier called Bharti Telesoft) portfolio of solutions span across VAS infrastructure, applications delivery platforms and customer-facing applications. The company claims that its solutions are deployed by service providers in over 90 countries and power services to over a billion subscribers globally. It is backed by Westbridge Capital, Sequoia Capital and Cisco Systems.
In September, 2012, Tech Mahindra Ltd, India's sixth largest software exporter, had struck a deal to acquire 51 per cent of Comviva, for Rs 260 crore ($48 million). As part of this arrangement, Tech Mahindra agreed to make an upfront payment of Rs 125 crore towards the stake acquired and the balance amount of Rs 135 crore will be paid out over a period of five years based on Comviva achieving mutually agreed performance targets. The firm will also be rechristened Mahindra Comviva.
---