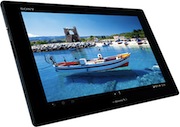 After announcing its next flagship, Xperia smartphone, at the Consumer Electronics Show (CES) 2013, Sony Mobile Communications is back in action again with a new tablet. The new device is called Xperia Tablet Z (note that the company has also launched a smartphone with the same name) and Sony is claiming it is the thinnest 10 inch tablet in the world. The device measures 6.9 mm at its thinnest, which is 2.5 mm sleeker than the new iPad and 2 mm less than Goole Nexus 10. Here is a look at the specifications of the device.
This tablet has a 10.1 inch LED-backlit WUXGA touchscreen display (1920×1200 pixel resolution) and runs on Android 4.1 (Jelly Bean) operating system out of the box. It is powered by a 1.5 GHz Quad-core processor, has 2 GB of RAM and comes with 32 GB internal memory.
On the camera front, the tablet sports an 8.1 MP autofocus rear camera (with Exmor RS sensor) that can record full high definition (HD) videos (1080p) and a 2 MP front-facing camera that can also record full HD videos. According to Sony, the camera automatically recognises the 'scene' in a dark place and adjusts the backlight accordingly, for better pictures. As for connectivity, the tablet has Wi-Fi, Bluetooth 4.0, 3G and 4G, and it also comes with a microSD port (for expanding the internal memory).
The device measures 266 mm x 172 mm × 6.9 mm and weighs 495 gm. Sony has provided a 6,000 mAh battery which should ensure decent battery life. For enhanced sound, there is 'S-Force Front Surround 3D' in the tablet. It also comes with Near Field Communication (NFC) and will be available in white and black colours.
Interestingly, the company claims that the tablet is both waterproof and dustproof (note not water-resistant but waterproof), which means it will be more durable than the other tablets available in the market. As of now, the Xperia Tablet Z has been announced only for the Japanese market and there isn't any clarity on the price.
This is the third tablet from the house of Sony (the first two are Tablet S and P) and the company has not wasted its time on creating a jazzy-looking device. Instead, it has focused on making it a compact, feature-packed gadget. Xperia Tablet Z is certainly a decent tablet in terms of specs and we can only hope that Sony will soon launch it in India. Whether it can give the iPads and the Samsung tabs a run for their money is yet to be seen, but Sony can definitely get a third time lucky.
(Edited by Sanghamitra Mandal)
---