Back in early 2011, when a roommate asked Sahil Baghla, a student at IIT-Kanpur at the time, whether he knew about any site that offered posters online, he realised there was none. That realisation prompted him to bridge that gap and Baghla along with few fellow IITians launched Bluegape.com, an online customisation platform for posters.
"After selling more than 1,000 posters in the first ten days, we realised the potential of what we were doing. We decided to chuck campus placements and instead build a business around it," said Baghla, CEO, Bluegape LifeStyle Pvt Ltd.
The Delhi-based startup was founded in August 2011 (before the Postergully's and the Carmocrat's came into the picture) by Baghla, Ayush Varshney (CTO) and Akash Rastogi (operations), who were later joined by Shailendra Singh (design). All three founders are IIT-Kanpur alumni. Baghla and Rastogi have had brief stints with Orbis Biosciences (Baghla) and Reliance (Rastogi), prior to BlueGape. The startup was selected by TLabs, an accelerator programme run by Times Internet Ltd (TIL) and apart from the mentoring, it also received a Rs 10 lakh cheque from the accelerator in March last year.
While the company started as an e-tailer of customised posters, in addition to that, it now also offers e-merchandising solution to brands. In simple words, the site has entered into exclusive partnerships with a number of brands and offers their merchandise on the site. And for users looking to create their own products, the site also offers a customisation option.
The site has partnerships with 18 brands (although only eight are showcased on the site as of now) that include We and Football, Garbage Bin, One97, Wireless Duniya, IIT Tips, iXiGO and brand69 (a brand created and owned by the startup, among others). In all, the site currently has over 2,000 SKUs for products like posters, mugs, t-shirts, laptop skins, men's clothing, books, canvas and cushion covers.
It claims to be getting over 70,000 unique visitors on a monthly basis and the top three cities from where orders come are Bangalore, Delhi and Kanpur, in that order. For logistics, the company has partnered with Quantium Solutions, Blue Dart, DTDC and India Post (for deliveries at remote locations). Also, all the products have free shipping to provide a uniform experience on each purchase.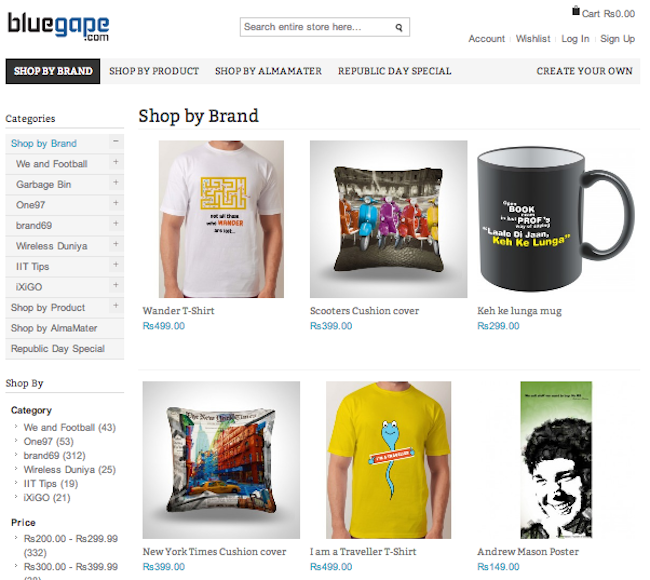 The startup faces competition from the likes of Postergully (was recently added to the startup accelerator and business incubator The Hatch), Allthingscustomized.com, Carmocrat and Posterduniya.com.
Expansion plans and competition
The startup plans to increase the number of brands on the site to 50 in the next six months and the available SKUs to around 15,000-20,000. It will also increase the team size to 13 from the present eight during the same time.
As of now, the average ticket size for the site is around Rs 600, and to increase this, the company will look to offer combo purchases on products. For example, if you are a Lionel Messi fan and buy a mug, poster and laptop skin with Messi on it, you will get it cheaper than if you buy the products individually.
The company already has an offline presence in three locations in Delhi and it is in talks with a few major retail chains (like Crossword and Reliance) for further expansion offline. It is also open to signing-up individual designers, and for doing the same, designers have to get at least six of their designs approved by the company. It is also looking to add a user-generated category that will showcase all the designs created by the users. And if a particular design in bought by other users, the creator of that particular design will receive points that can be redeemed in their next purchase on the site.
---