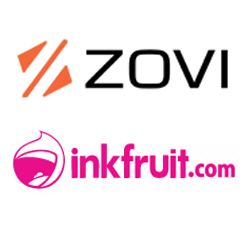 Apparel and accessories company Fingerprints Fashions Pvt Ltd, which owns e-tailer Inkfruit.com, is merging with Robemall Apparels Private Ltd, which runs private label fashion e-tailer Zovi.com, in yet another consolidation in the e-com space.
Inkfruit started as an online t-shirt retailer, but has now diversified as a casual wear and accessories seller. On the other hand, Zovi started as a private label offering for men then expanded to women's fashion and accessories. It recently launched kidswear and home furnishings.
Manish Chopra, CEO, Zovi.com said, "The rationale behind the merger was to have a stronger foothold in the private label offering. Both Kashyap Dalal and Navneet Rai, co-founders of Inkfruit, will join the board at Zovi."
The exact operational role of Dalal and Rai in the merged entity is not clear yet.
Chopra claimed that Inkfruit.com as a site would be retained but added: "Zovi will be the single platform going forward but Inkfruit's brand and merchandise will be retained."
However, maintaining two separate sites in same domain post a merger could, at best, be a temporary move.
What is interesting is that Zovi is being used as the primary platform as Inkfruit has a longer history having started a couple of years ahead of Zovi. Inkfruit stands marginally ahead of Zovi in Alexa ranking for India but Zovi appears to have got a leg up in search traction recently (check graph). The financials of the two private firms is not available to compare them on a revenue basis.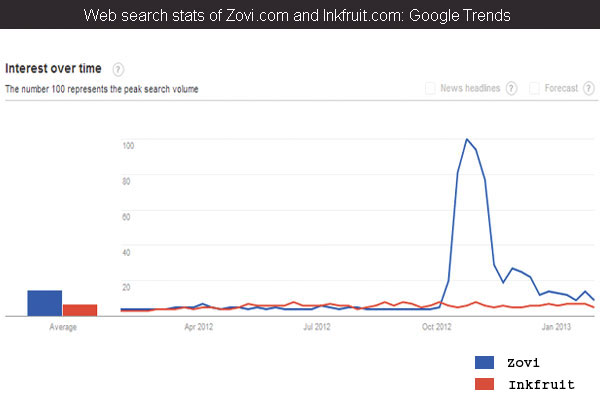 In another such deal in the crowded apparel and lifestyle accessories e-tailing space, Myntra stopped selling through SherSingh.com which it acquired as part of acquisition of Exclusively.in Inc. SherSingh label products are now available on Myntra.
Inkfruit has its private label products on its site and also holds marketing licence for other brands.
Post the merger, the combined entity would maintain two centres of operations at Bangalore and Gurgaon with a satellite office in Mumbai.
SAIF Partners had put in $3 million in Inkfruit in January 2011 and the firm had not raised any further funding, deemed critical in scaling up an inventory led e-commerce site with high customer acquisition costs and an evolving market in terms of volumes.
Zovi in contrast has raised two rounds of funding previously.
Both e-shops share SAIF Partners as the common investor, which is also one of the reasons for the merger.
Funding
Existing investors in Zovi, Tiger Global and SAIF Partners have pumped in fresh capital worth $10 million in the firm. "The funding happened around six weeks back and we wanted to wait a while before announcing it," he said.
Zovi will use the funds raised for marketing  and category expansion. It also said the firm would expand its self-delivery network to cover 75 per cent of its total shipments.
Bangalore-based Zovi raised $5.5 million from SAIF Partners in July 2011 and also raised another round worth $10 million from SAIF and Tiger Global soon thereafter. The latest funding means investors have pumped in $25 million in the firm.
Recently Techcircle.in featured 13 e-com M&As to watch out for in 2013 of which a Zovi-Inkfruit  merger was one of the candidates. Watch out this space for other announcements as they happen.
(Edited by Prem Udayabhanu)
---