Bangalore-based mobile VAS firm OnMobile Global Ltd  has launched a mobile-based deals service called GreatBuyz  to enable users to access deals and discounts via their handsets.
According to the site, GreatBuyz aggregates deals from multiple group-buying providers and keeps those at a single place to fulfil a customer's requirement for lucrative deals – for anything and at any time. While the platform enables buyer to shop at a discount, merchants can also create product awareness and increase sales with discounted offerings.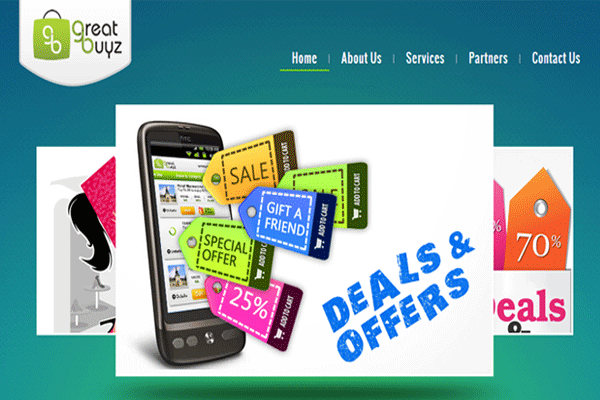 Currently a free service, it is now available only on BSNL and Idea Cellular platforms. But GreatBuyz will soon be available for other service providers. The service is available via SMS, IVR, CBC (cell broadcast centres), Handset Client and USSD (unstructured supplementary service data) platform, as well as through native mobile apps for Android, iOS, Symbian, J2ME and BlackBerry platforms.
The story was first reported by MediaNama. An e-mail query sent to the company spokesperson regarding the latest development did not elicit any response till the time of posting this article.
How GreatBuyz works 
Deal alerts are pushed to the user on a periodic basis. In addition, a user can browse through all the deals, select the deal of his/her choice and buy the deal coupon by using operator billing.
If one purchases a particular deal coupon using operator billing, the amount will be deducted from his prepaid account or will be added to his post-paid bill. Best of all, this payment mode totally eliminates the use of credit/debit card.
Once the payment is received, you will get an SMS with the voucher code. Present your voucher code to the merchant, pay the remaining amount and you can avail the service. The website will soon be integrated with the interbank mobile payment service (IMPS), credit card, debit card, mWallet and other payment options.
Deals start from 12 pm and end at 11:59 am; moreover, a deal typically lasts only 24-72 hours. Deals are not only time-sensitive but are also limited in number. And all vouchers are sold on a first-come, first- served basis. You will find deals across a wide range of categories including restaurant, health & beauty, travel, lifestyle, fashion and home & baby gadgets, among others.
Last month, the company announced a partnership with the Karnataka government to launch  the pilot phase of mobile governance services in the state. The initiative aims to facilitate citizen-oriented services on mobiles by means of an integrated mobile-enabled service delivery system.
Founded in 2000, OnMobile is a white-labelled data VAS company for mobile, landline and media service providers. The company caters to over 1 billion mobile users across 55 countries every month. It currently has 1,500 employees across India, the Middle East, the US, Europe, Australia and Africa.
(Edited by Sanghamitra Mandal)
---