Fashionandyou.com, a flash sales site of the Delhi-based Smile Group, has shut fashion and beauty e-tailor Urbantouch.com, a site it had acquired for an undisclosed amount in August last year. As part of the deal, Urbantouch.com founder and CEO Abhishek Goyal was appointed as the CEO of Fashionandyou. Urbantouch's team of 200-plus had also joined the Fashionandyou team of 750 employees and its (Urbantouch's) leadership team held stock in the combined entity.
The acquisition had also marked the exit of Urbantouch investors Tiger Global and Accel Partners, who had invested more than Rs 20 crore in the company.
According to Medianama, Goyal has now quit the company and many of the Urbantouch team members who had joined Fashionandyou are also no longer part of the company.
We tried contacting (via call and SMS) Goyal and Harish Bahl, founder and CEO of Smile Group, for more information. They are yet to respond.
At the time of the acquisition, Harish Bahl, founder and CEO of Smile Group had said, "This acquisition is a strategic move and Urbantouch.com will help us expand our product offerings in personal and beauty care segment."
If you visit the URL http://www.urbantouch.com/ as of now, you will be greeted with a message that reads:
"Thank you for continuously giving us the opportunity to serve you. We have now integrated our operations with Fashionandyou.com, India's largest online flash sales store. For inquiries related to orders already placed, you can reach our customer service at   +91-9019299299 or e-mail us at wecare@urbantouch.com."
Fashionandyou was co-founded by Bahl and former Yahoo India sales director Pearl Uppal in early 2010. In December 2010, the company raised $8 million from Sequoia Capital India and in November 2011, it raised another $40 million in a second-round funding, led by Norwest Venture Partners and Intel Capital. Sequoia Capital India and Nokia Growth also took part in that funding round. The company rebranded itself (July 2012) soon after the announcement of Uppal quitting the group.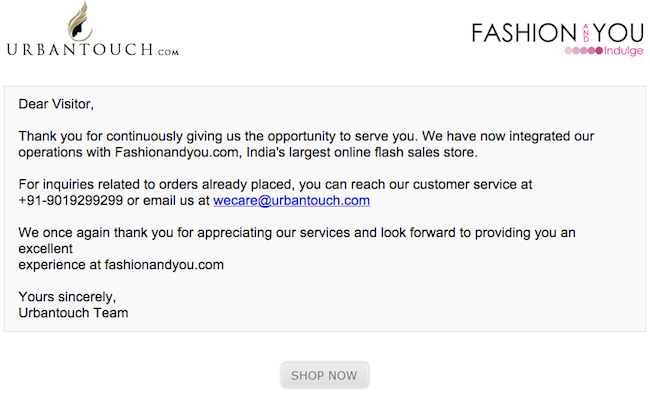 E-com consolidation in India
Like many experts predicted, e-commerce in the country has been seeing a lot of consolidation in the recent times. Here is a list of the prominent mergers and acquisitions (M&As) that occurred over the past year, as well as early this year.
February 2012: India's largest consumer e-commerce venture Flipkart.com acquired Letsbuy.com, a specialised e-commerce site run by eTree Marketing Pvt Ltd. The exact terms of the deal were not announced, but at the time, sources had confirmed to Techcircle.in that the deal value was around $20-25 million.
April 2012: E-commerce firm Jasper Infotech Pvt Ltd, which runs online marketplace Snapdeal.com, acquired eSportsBuy.com, an online retailer of sports and fitness equipment and accessories for an undisclosed amount. A month later (May 2012), the company shut down the eSportsBuy site and officially launched a sports section on its portal.
May 2012: Lifestyle and fashion e-tailer Yebhi.com acquired Stylishyou, an online shop offering fashion jewellery for an undisclosed amount. The deal included both cash and equity, and Yebhi had also acquired the merchandising team as part of the deal.
August 2012: () Baby products e-tailer Hushbabies.com, run by Lapis Marketing Pvt Ltd, acquires Mangostreet.com, an online shop offering kids' products for an undisclosed amount.
November 2012: Bangalore-based Myntra Designs Pvt Ltd, which runs the lifestyle e-commerce site Myntra.com, acquired Exclusively.in Inc., the company behind the private label brand Shersingh.com and the fashion site Exclusively.in, in a cash-cum-equity deal, for an undisclosed amount. In January this year, Myntra pulled the plug on one of its two e-commerce properties, Shersingh.com.
February 2013: Apparel and accessories company Fingerprints Fashions Pvt Ltd, which owns e-tailer Inkfruit.com, merged with Robemall Apparels Private Ltd, which runs private label fashion e-tailer Zovi.com. Post the merger, Zovi will be the single platform going forward but Inkfruit's brand and merchandise will be retained.
Also, here is a list  of 13 potential e-commerce M&As to watch out for in India in 2013. Its actually 12 now, considering one of our predictions has already come true (in the form of the Zovi-Inkfruit merger).
(Edited by Prem Udayabhanu)
---