Savaari Car Rentals Pvt Ltd, a Bangalore-based company offering chauffeur-driven car rental services online, claims to have completed 70,000 transactions till date. Although the company has been operational since mid-2006, majority of these transactions happened after it raised funding in April last year. According to the firm, the average transaction size is more than Rs 5,000, which means its gross revenues (or total sales) could be over Rs 35 crore ($6.3 million).
"We are looking at double digit crores in terms of revenues this year," said Gaurav Aggarwal, founder of Savaari.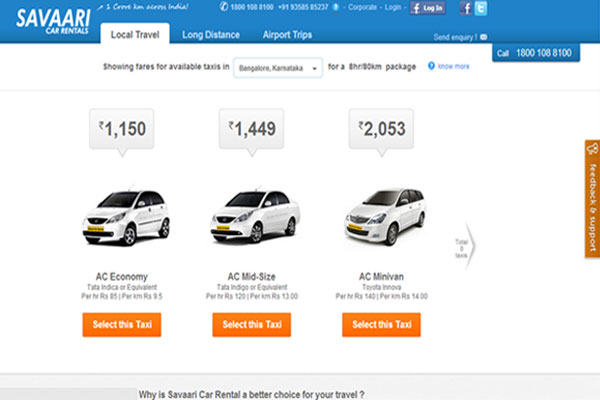 The company was set up in August 2006 by Aggarwal, who previously worked at Cisco Systems and Tata Consultancy Services. He holds a master's degree in Computer Science from Georgia Institute of Technology (US) and a bachelor's degree in Electronics from KJ Somaiya College of Engineering, Mumbai. Although Savaari offers airport pick-ups and drops, the core focus is outstation trips and local half-day/full-day bookings (packages like 4 hours/40 km and 8 hours/80 km for within-the-city travelling). As of now, the site is getting around 1.5-2 lakh visitors a month and the current team size is 100-plus.
Savaari raised Series A funding of Rs 5 crore (under $1 million) from Inventus Capital Partners in April 2012 and the money has been spent on marketing, technology and resources.
"However, we have enough cash left that will see us through comfortably for a year. We are still evaluating when we should start looking for the next round as we have big plans to scale further," said Aggarwal.
The growth chart
As of April 2012, the company had a network of 100 operators and 3000-plus cars across 60 cities. It has now increased its partner operators' network to 158 and added another 1,000 cars to its offering. Earlier, it was operating across the country, excluding the north-east region and ran a customer care centre in Dehradun and an operations office in Moradabad. Savaari has now started its services in Guwahati in the north-east, triggered by customer demand.
The company targets corporate and retail users, as well as online travel agents whose clients mostly opt for local half-day/full-day trips, multi-day tours and also multi-city trips. But earlier, the focus was more on corporate clients while Savaari is currently focusing on 'regular' retail customers (like us).
"We are constantly improving all our touch points including chauffeur interaction with customers, our website that has a simple two-step process for cab booking and our Android app that lets us control delivery schedules. This approach has paid off as we have seen triple-digit growth in both our corporate and retail businesses," said Aggarwal.
"We don't offer point-to-point services because for a player like us, this is a grey area in terms of licenses and permit regulations. But even from a business point of view, point-to-point is a very crowded space and the path to profitability is a long and winding road," he added.
While most of Savaari customers happen to be corporates, the percentage of retail customers has gone up considerably – from 70:30 to 60:40. And between local hires and outstation trips, the split is now 60:40. If you are wondering how the average transaction size can amount to Rs 5,000-plus when 60 per cent of the bookings are local hires (which usually lies in the range of Rs 1,000-2,000), Aggarwal managed to demystify the numbers. "99 per cent of our bookings are either local hires or outstation trips, and airport pickups/drops are nearly non-existent. But even for local hires, average bookings are done for at least 1.5 days instead of the usual package of 4 hours/40 km or 8 hours/80 km," he clarified.
Apps, challenges & focus areas for 2013
The company is also piloting an Android-based 'Driver' app (only for Savaari car drivers), designed to ensure customer security, especially the safety of women travellers. The app will also facilitate instant billing for local and outstation trips, along with toll charges, parking fees and state taxes on a pan-India basis. The 'Driver' app has been launched in beta and the company is now looking to make it available across the country.
"One challenge that we face is the quality of the network available in the 60 cities where we operate. We are working hard to ensure that the app works the same way in Guwahati as it works in Delhi," said Aggarwal.
The company will soon launch consumer apps for Android, iPhone and BlackBerry platforms, enabling users to make bookings from their handsets.
Savaari is also in active talks with one of India's leading airlines (name not disclosed) for mutual beneficial partnerships. Note that late last year (November 2012), another cab and car rental services provider Olacabs partnered with leading online travel agent (OTA) MakeMyTrip.com to provide car rental services in Mumbai, Bangalore and Delhi-NCR.
As for challenges, the biggest one for the company is to create brand awareness and recall as fast as possible, throughout the country. And to achieve it, the company will primarily target marketing, technology and resources in 2013.
Other players in the market
Online car rental services has been one of the hottest segments in the consumer internet space, with a whole bunch of startups raising funding in the first half of 2012 (read here  to know more about that and the existing players in the market). In December last year, Sharedcab.com, a provider of shared taxi services, also raised under Rs 5 crore from Anupam Mittal, Sasha Mirchandani (Kae Capital), Blume Ventures, Rajesh Sawhney and a few unmanned investors.
TaxiForSure.com, another online taxi booking site, claims to be doing around 800-900 bookings a day in Bangalore and is now looking to raise another internal round from its existing investors Accel Partners, Helion Venture Partners and Blume Ventures (from whom it raised an undisclosed seed round last year) for fuelling its expansion plans this year.
(Edited by Sanghamitra Mandal)
---