After unveiling the smartphone at the 2013 International Consumer Electronics Show (CES) in January this year, Sony has finally launched its flagship Xperia Z in the Indian market. The smartphone is priced at Rs 38,990 and will be available from March 12. The company will also launch its Xperia Tablet Z (which it claims to be the thinnest 10 inch tablet in the world) in India in May this year. The exact pricing of the tablet is not available as of now, but here is a quick look at the specifications of the devices.
Xperia Z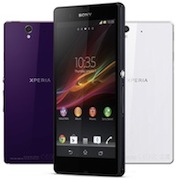 This smartphone sports a 5 inch, full high definition (1080×1920 pixel resolution) reality display with an amazing 441 ppi pixel density and will run on Android 4.1 Jelly Bean operating system (upgradable to Android 4.2). It is powered by a 1.5 GHz Snapdragon S4 Quad-core processor, has 2 GB RAM and comes with 16 GB internal memory.
Interestingly, Sony has added a 13 mega pixel fast-capture rear camera to the device that has the capabilities of Sony digital cameras and features Exmor RS for mobile, an image sensor with high dynamic range (HDR) technology that gives clear images against strong backlight. It also features a front-facing 2.2 MP camera that can record full HD videos. On the connectivity front, the device has Bluetooth 4.0, Wi-Fi, 3G, 4G LTE and a microUSB port.
The smartphone measures 139mm x 71mm x 7.9mm and weighs 146g. The company also claims that the device is highly durable (with tempered glass and an anti-shatter film on the front and at the back) and is dust and water-resistant. Read here for a detailed look at the device.
In the Rs 38,000-plus price range (that we like to call the exorbitantly priced segment), Xperia Z will compete with the likes of Apple iPhone 5 (Rs 45,500), HTC Butterfly (Rs 49,990), Nokia Lumia 920 (Rs 47,500) and the recently launched BlackBerry Z10 (Rs 43,500). It will also see stiff competition from Samsung Galaxy S III and Galaxy Note II (price now reduced to Rs 29,500 and Rs 35,500, respectively). But the biggest threat for the smartphone is the soon-to-be-launched Samsung Galaxy S IV, which many are asserting to be a game-changer.
Xperia Tablet Z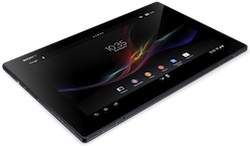 The third tablet from the house of Sony (the first two are Tablet S and P) has a 10.1 inch LED-backlit WUXGA touchscreen display (1920×1200 pixel resolution) and runs on Android 4.1 OS out of the box. It is powered by a 1.5 GHz Quad-core processor, has 2 GB RAM and comes with 32 GB internal memory. On the camera front, the tablet sports an 8.1 MP autofocus rear camera (with Exmor RS sensor) that can record full HD videos and a 2 MP front-facing camera that can also record full HD videos. As for connectivity, the tablet has Wi-Fi, Bluetooth 4.0, 3G and 4G, and it also comes with a microSD port (for expanding the internal memory).
The device measures 266 mm x 172 mm × 6.9 mm and weighs 495 gm. Sony has provided a 6,000 mAh battery which should ensure decent battery life. It also comes with Near Field Communication (NFC) and will be available in white and black colours.
Interestingly, the company claims that the tablet is both waterproof and dustproof (note not water-resistant but waterproof). You can find detailed specifications here.
"The launch of Sony Xperia Z is the start of our journey to triple the Xperia sales in India, to Rs 3,500 crore in fiscal year (FY) 2013. The company has taken several steps towards this direction, including tripling the Xperia marketing budget to Rs 300 crore for FY13, more than doubling the sales channel counters to 8,000 and increasing the service touch points to 200 by FY13," said Kenichiro Hibi, managing director of Sony India.
(Edited by Sanghamitra Mandal)
---