Bookmyshow acquires Ticketgreen.com, strengthens footprint in South India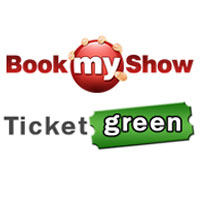 Bigtree Entertainment Pvt Ltd, the company that owns and operates the movie and event ticket booking site Bookmyshow.com (BMS) has acquired Ticketgreen.com, an entertainment ticketing portal mainly catering to the South Indian market, for an undisclosed amount. While the financials of the deal were not available, as part of the acquisition, Ticketgreen Solutions Pvt Ltd, the company behind Ticketgreen.com, will transfer all key assets to Bookmyshow.com along with all existing cinema partnerships under the Ticketgreen brand.
Also, the entire employee base of Ticketgreen will now join Bookmyshow to strengthen its portfolio in South India. BMS will also work on renewing the technological focus of the company (Ticketgreen) to improve its brand positioning in the market.
Ashish Hemrajani, founder and CEO of Bookmyshow.com, said, "Acquiring Ticketgreen.com is a part of our expansion strategy to grow our footprint in the South Indian market. The acquisition has strengthened our market presence and provided the requisite local resources and talent pool to expand our presence further into Tier II and Tier III cities in South India."

Founded in 2007, Ticketgreen is a Chennai-based company providing ticketing for movies, leisure, events, plays and concerts. It has its own proprietary software through which it provides fully integrated ticketing service to its partners. It has partnerships with over 150 screens across Tamil Nadu, Pondicherry, Karnataka, Kerala, Maharashtra, Gujarat and West Bengal and claims to sell over 1 lakh tickets per month. "With this development, we hope to reach out to a larger online consumer base," said Nagaraj Ruthirakotty and Vetri Selvan, both directors at Ticketgreen.
Bookmyshow.com claims to be the largest entertainment ticketing portal in India with over 90 per cent of the market share in the online entertainment ticketing space. In addition to offering ticketing for over 1,500 screens across 350 cinemas in more than 100 cities, it also sells tickets for over 1,000 events every year across India. Apart from these, it also offers ticketing for sporting events including like Formula 1, Indian Premier League, Indian Cricket League, Aircel Chennai Open, Super Fight League and Yonex Badminton Championships.
The company has over 60 million average page views a month, an active database of over five million members, and claims to sell more than two million tickets per month. It also offers mobile applications for the Blackberry, iPhone, Android and Windows phone platforms. Headquartered in Mumbai, the company also has offices in New Zealand, Malaysia, Australia and UK.

In August last year, venture capital firm Accel Partners invested Rs 100 crore (over $18 million) to buy a large minority stake in Bookmyshow, through a mix of primary share issue and sale of shares by existing investor Network18 Media & Investments.
Prior to this transaction, public-listed Network18 Media & Investments (through its step-down subsidiaries) held 60 per cent stake in Big Tree, which shrank to 40 per cent. The deal valuedBookmyshow at over Rs 250 crore.
In January, the company totally revamped  its portal and added a slew of new features to enhance functionality and user engagement.

E-com consolidation in India
The acquisition of Ticketgreen comes as yet another e-commerce consolidation in India. Recently, Fashionandyou.com, a flash sales site of the Delhi-based Smile Group, had shut  fashion and beauty e-tailor Urbantouch.com, a site it had acquired for an undisclosed amount in August last year. You can read about the prominent mergers and acquisitions (M&As) that occurred over the past year, as well as early this year here. Also, here is a list of 13 potential e-commerce M&As to watch out for in India in 2013. Its actually 12 now, considering one of our predictions has already come true (in the form of the Zovi-Inkfruit merger).
---