Gurgaon-based startup Bright Lifecare Pvt Ltd, which runs the online health store HealthKart.com, has started selling prescription drugs via its drug search engine HealthKartPlus.com. The platform, which was launched back in September 2012 as a smartphone app as well as a site, was only functioning as a generic drug search portal till date. However, it has now become a marketplace that enables customers to search and purchase prescribed drugs.
The service is currently available only in Delhi-NCR but going forward, the company plans to introduce it in other metros as well. Medianama first reported the development.
Using HealthKartPlus, customers can find information on medicines and correct dosage besides comparing the pricing. They can also find out how prescription medicines work and the precautions required for the same. The application also enables one to compare drugs by pricing and choose the most cost-effective generic drug for a given prescription. In addition, customers can now also purchase the required drugs through this platform.
We tried accessing the store, but it is currently displaying a message that reads: We're closed for maintenance. Not to worry, we'll be back in no time. However, according to Medianama, a consumer can place orders by entering their pin codes (to check availability of delivery), post which the order is forwarded to the concerned chemist. The minimum order value is Rs 250 (similar to HealthKart.com) and for authenticating the order (since these are prescription drugs), a buyer can either upload the prescription while ordering or verify the same at the time of delivery.
As of now, the company claims to have a database of over 100,000 medicines and according to Sameer Maheshwari, co-founder and MD of HealthKart, people will primarily use the platform to purchase medicines for chronic diseases.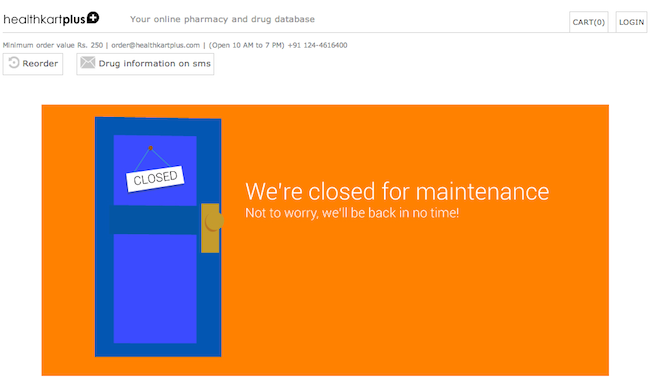 Moreover, as it is a marketplace, the company has tied up with a number of leading pharmacies (after a verification process). As for revenues, the firm will get a commission (a certain percentage of the sale value) from each pharmacy for all the purchases done via HealthKartPlus. For home delivery, the pharmacists will use the company's services. It means HealthKart will collect the medicines from the pharmacists before packing and delivering those to end-users.
HealthKart was set up in 2011 by IIT Delhi alumni Prashant Tandon and Sameer Maheshwari. Prior to this venture, Tandon worked for companies such as McKinsey & Company, MapmyIndia and Unilever. He holds an MBA from Stanford University Graduate School of Business.
Maheshwari worked at companies like LucidEra, UBS Investment Bank, Jefferies & Company, MicroStrategy and Deloitte Consulting. He had done his MBA from Harvard Business School. You can also read a full spread on the company here.
The startup raised Rs 27 crore in its second round of funding from existing investor Sequoia Capital and another new investor, Omidyar Network, in January 2012. Earlier, in April 2011, it raised $1 million as seed fund from Kae Capital and Sequoia Capital.
In May last year, it acquired the assets of health nutrition e-store MadeinHealth.com, for an undisclosed amount. As per the agreement, HealthKart acquired the domain name, inventory, database and its Facebook page besides a few key employees of the two-year-old startup Blue Lion Group Services, which runs MadeinHealth.
In terms of competition, Delhi-based YoPharma.com is another player that is selling prescribed drugs online. However, it is operating as an e-pharmacy and not as a marketplace.
Series B Funding
According to market talk, the company is also close to raising a new funding round led by Intel Capital in which existing investor Sequoia Capital will also participate. The funding will be to the tune of $14 million as per Iamwire, which  reported the news citing sources. We tried to confirm the same from Sequoia and Intel Capital, but spokespersons for both declined to comment.
However, sources told Techcircle that while Healthkart has been in the market for raising funds, it has not frozen a deal yet. One source privy to the developments said, "Sequoia is an existing investor but they have not yet decided on putting fresh money in the firm. Intel Capital has been looking at some e-com investments and Healthkart is one of the candidates, but the investment nor the quantum is finalised as of now."
(Edited by Sanghamitra Mandal)
---