Cleartrip enables online rescheduling of domestic flights, waives handling fee
Cleartrip Pvt Ltd, which runs the online travel booking site Cleartrip.com, will now enable users to reschedule domestic flights online instead of amending their bookings over the phone. While some OTAs already facilitate online cancellation of air tickets, Cleartrip could arguably be one of the first players that allow travellers to change flights as per requirements, instead of cancelling first and then rebooking separately.
Interestingly, this option is available for domestic flights only, the segment that churns out 65 per cent revenues for the company. The rest 35 per cent comes from international air travel and hotel products.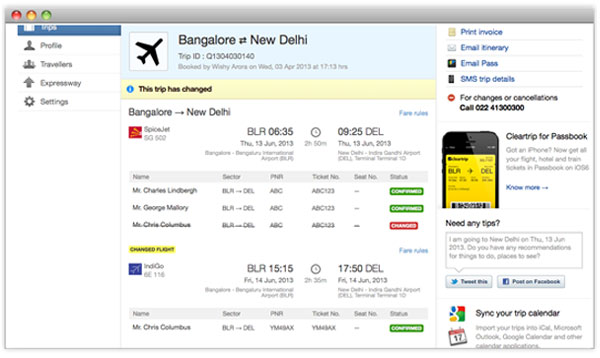 "This wasn't an easy feature to implement. So we will first evaluate its operational performance and customer adoption before taking any decision on how to expand it," said Hrush Bhatt, founder and director (product and strategy) at Cleartrip.
Moreover, if the booking has been for more than one passenger, a user can still amend the booking for one person only – without disrupting others' flying schedule. In addition, one can opt for any carrier and need not choose the same airline he/she had chosen earlier.
Simultaneously, the OTA has also waived the additional fee a user had to pay earlier for rescheduling a flight. As of now, travel booking sites charge up to Rs 1,000 as amendment handling fee and Cleartrip used to charge Rs 300 per passenger. However, passengers will have to pay standard amendment fees charged by the airlines.
The new IRCTC site for flight booking does not charge any amendment handling fee either. But amendments to tickets booked through Air IRCTC also attract airlines booking change/cancellation charges.
Cleartrip's move could have been the fallout of the development two months ago when the Supreme Court banned such fees.
Recently, the OTA claimed to be doing over 5 lakh transactions a month in India (a round trip is considered to be two transactions, which means the total number of bookings can be anywhere between 2.5 lakh and 5 lakh since some tickets are for single journey). These transactions are spread across the three biggest service areas of the company – domestic air travel, international air travel and packages (flight and hotel combos).
The company has also launched a slew of new features like Expressway (for one-touch booking), Quickeys (for last-minute hotel booking) and Passbook support (for iOS users) and the recently launched money back policy called Pricewatch.
(Edited by Sanghamitra Mandal)
Comment(s)