Zomato launches in Johannesburg, claims 11M monthly users worldwide

Gurgaon-based Zomato Media Pvt Ltd, which owns the popular restaurant and event-listing site Zomato.com, has expanded to South Africa with the launch of a new Johannesburg section.
According to the company, the new section covers around 2,000 restaurants in the city and is available on the web as well on mobile apps for BlackBerry, iOS and Android. Zomato features scanned menus, photos, mapped co-ordinates and user reviews for all listed restaurants.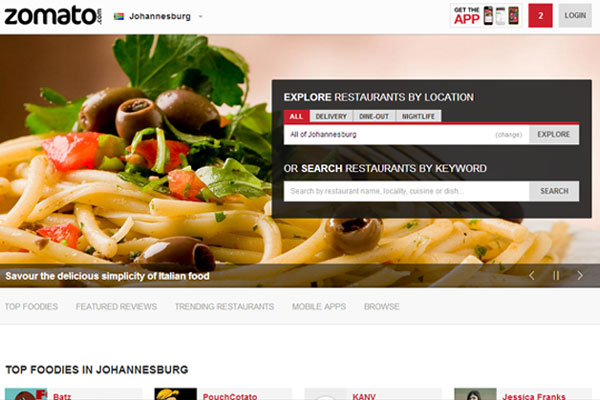 "We have been growing aggressively over the past few months and South Africa has always been on our mind. We'll be launching in Cape Town soon and are looking forward to South Africa becoming a key business hub for us," said Deepinder Goyal, founder and CEO of Zomato.
Zomato's last international foray was into the Philippines when it launched the Manila NCR section. Its global expansion started with the launch of the Dubai section in September last year, followed by the foray into Sri Lanka with a Colombo section. In January this year, Zomato expanded to Europe with the launch of a new section focusing on London.
Zomato was founded by IIT-Delhi alumni and ex-Bain employees Deepinder Goyal (CEO) and Pankaj Chaddah in July 2008. It first started operations in Delhi-NCR and now has sections for over 20 cities across 7 countries – India, the UAE, Qatar, Sri Lanka, the UK, the Philippines and now South Africa.

The company claims to have a combined web and mobile traffic of over 11 million per month and covers more than 94,000 restaurants. In near future, Zomato plans to expand to continental Europe, the Middle East, South America and South-east Asia.
Zomato is backed by Info Edge (India) Ltd, which runs various businesses like recruitment site Naukri.com and other classifieds such as matrimonial site Jeevansathi.com and real estate portal 99acres.com. Earlier this year, Info Edge put in Rs 55 crore ($10.07 million) more in Zomato Media. That infusion of funds took Info Edge's total investment into Zomato to Rs 86.06 crore and its holding has risen to 57.9 per cent (from 48.5 per cent), making it the majority shareholder in the company now. Prior to the latest round, Zomato had raised Rs 31 crore in three rounds of external funding from Info Edge "the first round in August 2010, the second in September 2011 and the third in September 2012.
(Edited by Sanghamitra Mandal)

---