TV18 Shopping Network Ltd, the teleshopping and e-commerce arm of Network18 that runs under the HomeShop18 brand, has raised fresh capital to the tune of $30 million (Rs 163 crore) from OCP Asia and Network18. OCP Asia and Network18 will put in $15 million each. The transaction values HomeShop18 at $330 million (Rs 1,790 crore).
This means OCP Asia has picked up around 4.5 per cent of the diluted capital.
Amarchand & Mangaldas & Suresh A. Shroff Co. advised Network 18 and HomeShop18 in the pre-IPO investment by OCP and Network18.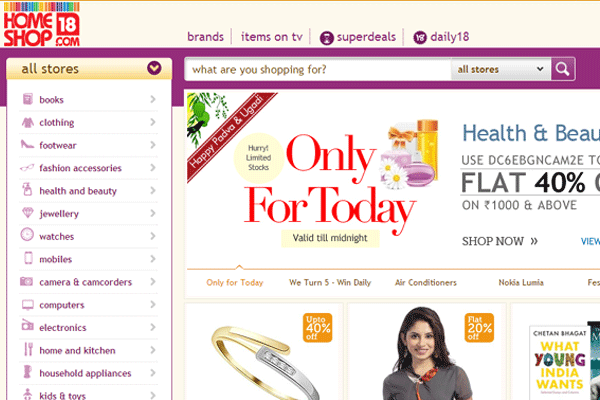 OCP Asia is a multi-strategy hedge fund manager in Asia. It was established in September 2009 by Stuart Wilson and Teall Edds – hedge fund managers with more than 40 years of combined investment and risk management experience in Asia. Tiger Global is another hedge fund that is active in India in terms of internet venture investments.
Techcircle had earlier reported that the firm was in talks to raise up to $50 million in what would be another round of private funding before it would go public.
According to an official statement issued on Thursday, Network18 will remain the majority shareholder in HomeShop18 even after the current transaction. Existing investors include SAIF Partners and GS Home Shopping.
HomeShop18 launched India's first 24 hour home shopping TV channel in 2008. Today, it sells products through internet (HomeShop18.com), as well as through TV shopping channel. It claims a customer base of 6.1 million and has a portfolio of more than 12 million SKUs across multiple product categories and a logistics reach of over 3,000 locations across India.
"OCP Asia's investment will put us on an accelerated path of growth. We are delighted that our promoter Network18 has shown its continued belief in the HomeShop18 business model by investing its fair share in this round," said Sundeep Malhotra, CEO of HomeShop18, while commenting on the latest capital infusion.
He recently said that the firm was looking for "meaningful investors to come on board."
Malhotra also claimed at that time that the firm is clocking 17,000 orders a day and one-third of the revenues is coming from the e-commerce section. He also mentioned that the impending IPO should happen in the next two years.
The digital commerce firm, which draws a chunk of its business from the home-shopping network and runs an e-commerce portal, also saw acceleration in revenue growth with the turnover of TV18 Home Shopping Network (which runs HomeShop18) rising 35 per cent to Rs 90.9 crore for FY12 from Rs 67 crore. The firm said on Thursday that its revenue has doubled over the past year which means the firm is valued around 10 times its revenues.
But the pain point for the business lies in the fact that its net loss has more than doubled to Rs 107.2 crore, compared to Rs 50.9 crore for the year ended March 31, 2011. This also implies that the loss of the company was more than the revenues in FY12. The latest financial numbers for FY13 ended March 31, 2013, are not available yet.
(Edited by Sanghamitra Mandal)
---