Vserv partners Yahoo for mobile monetisation across Southeast Asia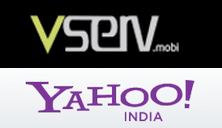 Mumbai-based mobile advertising network Vserv.mobi has partnered with Yahoo for mobile monetisation across Southeast Asia, including markets like Singapore, Malaysia, Philippines, Thailand and Vietnam. As part of the partnership, Vserv's advertisers will be able to use the audience targeting capabilities of Vserv's network for advertising on Yahoo's mobile inventory.
Marissa Mayer, president and CEO, Yahoo, had talked about the company's transition towards becoming a 'predominantly mobile company' on a recent fourth quarter earnings call. At the time, she had also mentioned Yahoo's mobile services now attract around 300 million visitors worldwide on a monthly basis. Apart from Yahoo, Vserv already has partnerships with publishers like Okezone, Kompas, Viva News, Antara News, Metro TV News, Utusan (Malaysia), Cosmopolitan (Indonesia), 9X Media, Sony Music, India Today, Mid Day, among others.
Set up in January 2010 by Dippak Khurana and Ashay Padwal, Vserv had raised $3 million in Series A funding from IDG Ventures in July 2011. As part of the deal, Manik Arora and Karan Mohla from IDG Ventures had joined the company's board. Ajay Adiseshann, founder and managing director of the mobile payment company PayMate had also invested an undisclosed sum in the company. Vserv currently employs 110 people and plans to take this number to 200 by the end of this year.
As of last month, the company was claiming to be publishing 30 billion ads per month. Out of the total number, 30 per cent of the ads were from India, 20 per cent each from the US and Europe, South-east Asia, and Africa and 10 per cent from other parts of Asia. In terms of growth, the company wants to cross the $100 million mark in revenues by 2015. And while the company is already profitable (at least according to Ashay Padwal, co-founder and CTO, Vserv), it may go to the market for another funding round at the end of 2013.
Last October, the company announced the addition of three senior executives to its global management. It had appointed Rohit Verma as VP, India and Middle East; Elliot Renton as GM, publisher alliances, South East Asia and Narayan Murthy Ivaturi as GM, sales strategy.
Early this year, the company launched AudiencePro, its second technology platform after AppWrapper (earlier called AdWrapper) monetisation platform, the company's flagship product.
Comment(s)