Hike claims to cross 5M downloads; should WhatsApp worry?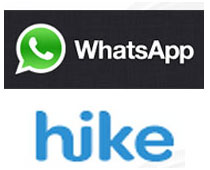 Bharti SoftBank's mobile messaging app Hike has crossed 5 million downloads since its launch in December last year. Last we wrote about it in February this year, it had just gone viral with 1 million downloads under its belt and had become the top-grosser on the Google Play store. Three months later, the download figures have increased 5x and Hike claims to have crossed 5 million downloads across platforms.
According to Kavin Bharti Mittal, who is part of the top team at BSB (a joint venture between Bharti Enterprises and Japanese Internet firm SoftBank Corp), Hike is seeing great traction and should reach 10-15 million users by the end of this year. Currently available on the Android, iOS, Windows and Symbian-40 operating systems, it has also released its app for BB7 OS today. "Very soon, our app will be available for S-60 too," said Mittal.
As for traffic, Mittal had shared earlier that it was an equal split between Indian and global users. But it is now tilting towards Indian users. "We now have a 60:40 ratio in terms of India versus global. However, our app is globally popular and besides India, the Middle East and Europe are the biggest markets," he added.
Hike did a closed beta launch in July last year and was formally launched in December. For a quick recap, let's tell you it is a peer-to-peer (P2P) messaging app that uses both data and SMS to deliver messages. One of its key features is that those who don't have Hike on their phones can still receive an IM as an SMS. You can also respond to it but have to pay normal SMS charges for that.
According to Mittal, of the total Hike traffic in India, 20 per cent accounts for Hike-to-SMS and that shows the scanty usage of mobile Internet. "Although the number of smartphone users is increasing, the majority of people don't even have the Internet active on their smartphones," he observed. Also, Hike will soon come up with some features focused on Indian users, he added.
Reiterating what he told before, Mittal said that they would like to reach a critical mass before thinking of monetisation. "We are getting great response and for now, we are working to make it better and smarter for our users," he said.
Is there any specific target in his mind, especially as WhatsApp is still leading the market with awesome numbers? Mittal just said that for now, WhatsApp is way ahead in the Indian market but surely "Hike is getting there."
Apart from WhatsApp, there are other competitors as well. Chinese Internet major Tencent's social messaging platform WeChat crossed the mark of 300 million registered users (globally) earlier this year. It also allows users to chat in Hindi, in addition to 17 other languages. In contrast, WhatsApp has around 100-500 million downloads on the same platform. Also, as of Dec 31, 2012, WhatsApp had 18 billion total messages processed in one day (7 billion inbound messages and 11 billion outbound). Hike is up against such giants but a fast-paced product coming out of India is a great thing in itself.
Do you think Hike can give these global giants a run for their money?
(Edited by Sanghamitra Mandal)
Comment(s)