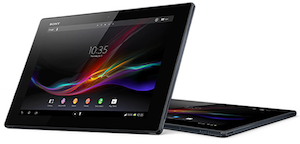 Unveiled in January this year, Sony has finally launched its third tablet (Tablet S and P were the first two) in the Indian market. But don't get excited just yet. The device, called Xperia Tablet Z, has been priced at a whopping Rs 44,990 (the official price is Rs 2,000 more, but online retailers are offering it cheaper) and will be available for purchase starting June 1, 2013.
While the company did not waste time on creating a jazzy-looking device and instead made the tablet a compact, feature-packed device, there is still no justification for its price. To put things in context, here is a quick look at the specifications of the device.
Sony claims that the device is the thinnest 10 inch-tablet in the world. The device measures 6.9 mm and is 2.5 mm sleeker than the new iPad and 2 mm less than Google Nexus 10. The company also claims that the tablet is water-resistant and dust-proof, which means it will be more durable than other tablets available in the market.
It has a 10.1-inch LED-backlit WUXGA touchscreen display (1920 × 1200 pixel resolution) and runs on Android 4.1 (Jelly Bean) operating system out of the box. It is powered by a 1.5 GHz Quad-core processor, has 2 GB of RAM and comes with 32 GB internal memory.
The tablet sports an 8.1 MP autofocus rear camera (with Exmor RS sensor) that can record full high definition (HD) videos (1080p) and a 2 MP front-facing camera that can also record full HD videos. As for connectivity, the tablet has Wi-Fi, Bluetooth 4.0, 3G and 4G; it also comes with a microSD port. The device measures 266 mm x 172 mm × 6.9 mm and weighs 495 gm. Sony has provided a 6,000 mAh battery which should ensure decent battery life. For enhanced sound, there is 'S-Force Front Surround 3D'. It also comes with Near Field Communication (NFC). Read here for detailed specifications of the device.
While it is definitely a decent device, Rs 45,000 price tag could prevent interested users from purchasing it, especially when they can get their hands on an Apple iPad 4 32GB for Rs 37,900 or a Samsung Galaxy Tab 10.1 32GB for Rs 35,999. Even Google Nexus 10 32GB's unofficial pricing (considering the company has not launched it in India) is lower at Rs 38,806. And while there is not a very large price difference between these gadgets and the Xperia Tablet Z, the fact is Sony's popularity as a tablet manufacturer pales in their comparison (which means a customer will any day prefer an iPad or a Nexus device instead of a Sony tablet).
At the time of the Sony Xperia Z launch in March this year, Kenichiro Hibi, MD of Sony India, had mentioned that the company is planning to triple the Xperia sales in India to Rs 3,500 crore in fiscal year 2013. But if that plan includes obscenely pricing the devices and hoping that customers will be dumb enough to buy them, we don't think it will materialise anytime soon.
---