Pune-based technology startup Qualitia Software Pvt Ltd has developed a 'scriptless' test automation platform – an enterprise-facing solution that helps make test automation fast, reliable and easy. The firm claims that it takes less time, requires fewer skills and costs about 50 per cent less when companies leverage Qualitia's platform, using which testing teams can build an automated testing system with Selenium (an open source software test automation framework for web applications) – without the need for scripting or programming. The startup recently showcased its product at the Techcircle Demo India event.
In the software testing space, test automation is relied upon to ensure desired quality index of software products and applications in the shortest possible time. And Qualitia enables enterprises to achieve their software quality assurance goals in the most hassle-free manner.
The company puts in one place all the best practices of test automation such as functional decomposition, centralised repository, reusability and end-to-end traceability of all test assets. Also, shorter release cycles give customers the confidence for faster time-to-market without compromising on code quality.
"We realised that organisations were struggling to deliver in the test automation space and four out of five companies were unhappy with the way their test automation had progressed. We saw a large opportunity to accelerate this process and consequently, built the platform," said Sudhir Patil, co-founder and head of marketing at Qualitia.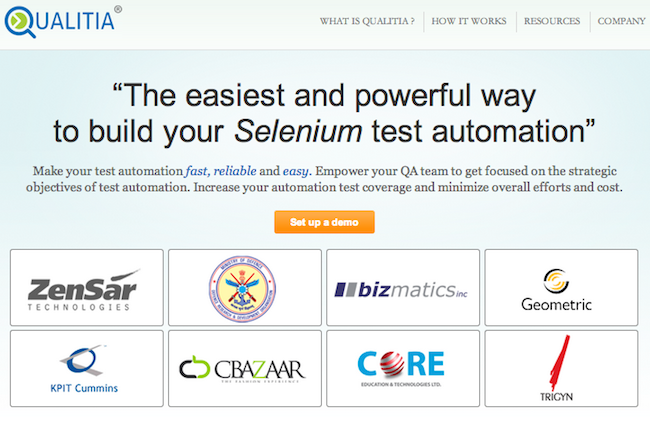 The startup was founded by Rahul Chaudhari (MD and CEO), Rajmeet Chhabda, Ravi Nukala, Kedar Joshi (director, client engagement) and Patil in March 2011. Then came Chetan Shah (he has been mentoring the team) who joined the company as its president. Interestingly, the name Qualitia is a blend of quality and acceleration "the two distinct features of the company's test automation product. Prior to Qualitia, this founding team also set up another technology company called ZenSOFT Services.
The startup's clientele includes companies like Sears Holding, PTC, Pitney Bowes and Bombay Stock Exchange, among others. In order to generate revenues, the company licenses its product to customers.
Qualitia is currently bootstrapped and is looking to raise funding, which will be primarily used for scaling up its sales operation, predominantly in the US, and also product development.
"There are three key items on our agenda. The first is market penetration in the US and the UK. Our second priority over the next 12 months is a new product release, which is Qualitia's design studio. The third one is hiring the right talent in leadership roles," said MD & CEO Rahul Chaudhari. The current team size is 30 and the company plans to double it by the end of 2013.
While a number of companies like HP and IBM offer test automation tools globally, Qualitia does not directly compete with those, according to Patil. Its product actually complements the existing tools as the company has created its unique space in the market and introduced the first of its kind 'scriptless' test automation platform, enabling testers to create test cases by simply editing test parameters and conditions.
But can it compete with the global bigwigs even though the enterprise application market is growing fast? Scaling and global expansion could help the startup to a large extent, of course. Watch this space as we bring you further development.
(Edited by Sanghamitra Mandal)
---