App Tracker: Apps for game aficionados by homegrown companies
Ever waited at the railway station/airport for that elusive train/flight, with nothing to do and only your trusty smartphone as a companion? We all have. It is at times like this that you turn to your mobile phones for some entertainment, and a 'game' often turns out to be the best pastime. We felt that after doing comparison after comparison of the popular utility apps (last time around it was Live TV apps), it was time to bring to you something that could make the weekend that much more engaging.
For the same, in this week's App Tracker, we are featuring popular gaming apps by a number of Indian gaming companies. The companies we are featuring include Nazara Technologies Pvt Ltd, Rolocule Games Pvt Ltd, Games2win India Pvt Ltd, and Reliance Games. Note that the games were selected on the basis on their popularity on their respective app stores. All of them are free games and not necessarily the top games for these companies.
Parking Frenzy by Games2win (iOS)
As the name suggests, the game involves a car that the player has to park as best as he/she can. To start with, the user is given a red car, which he/she has to park on an allotted place. The better the parking done—in the least amount of time, without any damage to the car—the better the score for that level. Every bump changes the car's shape, starting with perfect to dented to damaged and finally wrecked (means end of the road).

In addition to the natural obstructions, obstacles like traffic and/or people on the road keep coming (as the level advances) to make the job of the driver that much harder. At the end of each level, the user is given an efficiency percent depending on the accuracy of the parking. For controlling the car, there is an acceleration/reverse button and a steering wheel (both work accurately). While the game sounds easy (how hard can an attempt to park a car be?), it actually becomes challenging as you graduate to tougher levels. After every seven levels, users also have to pass a driving test. They can also go to the 'driving school' for direct driving tests.
Players can share their score via social networks and compete with friends for becoming a parking expert. They can also make in-app purchases like buying auto repair for $0.99 (Rs 59) with which they can repair the car anytime during the game to keep it damage free (true adventurists should not resort to shortcuts!). They can also remove ads by paying an additional $0.99.
The app saw between 5 and 10 million downloads on Google Play over the last month.
Verdict: Try rotating the smartphone screen while maneuvering downwards, it helps. One addition that, we feel, can be done is making the car available in additional colours.
Chhota Bheem & Throne of Bali by Nazara (Android)
This one falls under the arcade and action category, and is a simple running game. The protagonist is Chhota Bheem, a popular Indian cartoon character, and the object of the game is that he has to run and avoid obstacles (in the form of monsters) in his path by jumping, all the while collecting laddoos (a ball-shaped Indian sweet) and bananas along the way. It is an easy game as it has only one control which is for jumping— Bheem runs on his own.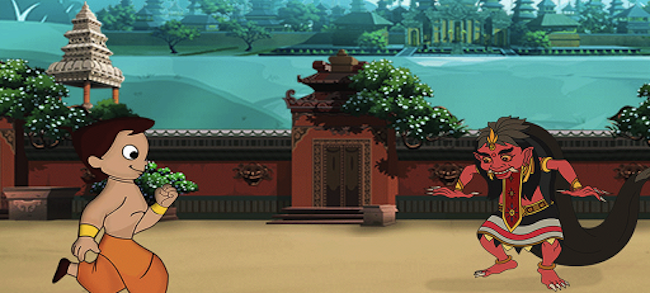 After collecting three straight laddoos, Bheem starts flying for a few seconds all the while dressed up in Superman glasses and drapes, which brings a little bit of uniqueness to the game. The cute and colorful theme of the game will most likely score big among young gamers. The game does not emphasise on twists and turns, rather focuses on the timing of the player.
As soon as Bheem clashes with a monster, the game ends. While there are no levels, a player can keep increasing their scores by surviving longer and collecting more laddoos/bananas. The motivation to play the game will be to beat your own score, as there is no other way to compete or share scores socially.
The game saw between 1 and 5 lakh downloads on Google Play over the last month.
Verdict: It is an interesting and fun game, but can be padded up with new power-ups and a social score sharing feature.
Ben 10 Galactic Getaway by Reliance Games (Android)
The game can be played in two modes—story or survival. While both modes are more or less the same, if you choose the story mode, an animated Ben 10 movie plays in the background before the start of the game. The story of the game is that Kraab (an evil alien Ben 10 character) has kidnapped Gwen (Ben's cousin) and taken her to his galaxy. Now Ben has to trace the planet and rescue his sister, but his Omnitrix, a watch-like device that allows Ben to turn into an alien, is malfunctioning and the only form Ben can transform into is Heatblast.

To proceed, Ben has to collect keys and coins, while following a proper path (since he cannot fly). At first glance, the game may look bit complicated, but it is an easy and interesting game to play with simple swipe-to-move controls. The colour-theme and design of the game will be liked by gamers who run away from colourful and soft themes.
The game, a mix of action and puzzle, is engaging as every level has new challenges and a different design. Difficulty increases with each new level and the game can engage users for hours. Players can also post their score on Facebook and can invite friends from the social network to compare their scores and more.
The game saw between 50,000 and 1 lakh downloads on Google Play over the last month.
Verdict: The game is gripping as it is adventurous, but can probably do with a lighter background theme.
Flick Tennis: Last Wish by Rolocule Games (iOS)
While the game is focused on tennis, it's not sans a full filmy storyline (Bollywood style). So there is the protagonist whose father was an awesome tennis player but could not achieve glory due to an untimely accident. Cut to the present where our hero, a student of a fictional Ankleridge High School, has a very important tournament that he has to win so that his dad can live his dreams through the son (very emotional).

Coming back to the game, it uses swipe controls where everything from the serve to a pick happens with a flick of the finger. Depending on the type of the flick, players can play 'ground', 'slice', 'drop', and 'lob' strokes. When the computer hits the ball, the player automatically moves on the tennis court to adjust his placing for playing a shot. Players can also strategise by choosing where to move the player on the court on their own. For doing so, they have to click a particular place on the tennis court where they want the player.
Most of the strokes can be with one finger, but some of them require two. And while the controls can take a while to get used to, once you get the hang of it, it is a lot of fun. As you keep advancing levels, the level of difficulty keeps increasing.
When we checked, the game was not available on Google Play.
Verdict: The graphics of the game are good and tennis fans can give this one a try, though we feel it will also appeal to those who are not. A 'perfect serve' option should also be added to the game.
That's all for this week's App Tracker; since we are not comparing (rather featuring) the apps, no ratings are given to them. Some of you might be wondering why we missed Indiagames Ltd, which is now part of The Walt Disney Company India, in our review. The reason behind this is that we are coming up with an App Tracker focused on all things cricket (after all we are a cricketing nation!), and will include Indiagames in that.
Also, for all those startups that want their apps featured on Techcircle.in in the future, you can send in your requests, along with a brief descriptor of your apps to editorial@vccircle.com. For readers, if you find an interesting app out there and want it reviewed by us, you can also send us a 'tip' at the above mentioned email id. Till next time, keep tracking.
(Edited by Joby Puthuparampil Johnson)
Comment(s)