Social music streaming service Dhingana is close to reaching the 5 million downloads mark, the company claims. In January this year, the company said it had crossed 3.5 million downloads. Swapnil Shinde, co-founder & COO of Dhingana, shared that although the service is popular in around 200 countries, 60 per cent of its users come from India. Other major markets include the US, the UK, Canada and Australia, in that order. Dhingana apps are available for iOS, BlackBerry, Android, Windows and Nokia devices; plus you get it as an HTML5 web app.
Shinde further said that the recently launched curated radio station increased the weekly engagement by around 150 per cent. Talking about the premium subscription-based service, which is awaited from Dhingana now since other competitors have already come up with it, Shinde said that it would be launched very soon. "We will be launching a premium service which will, hopefully, raise the bar in the market and it will come to consumers at a price they will love," he said.
Asked whether the market is really ready to pay for content, which is largely available for free due to piracy issues, Shinde said that the freemium concept works for music. "Besides, people are already paying for services like CRBT, which don't offer that much value addition. So if you offer really world class products, they will most definitely pay," he added.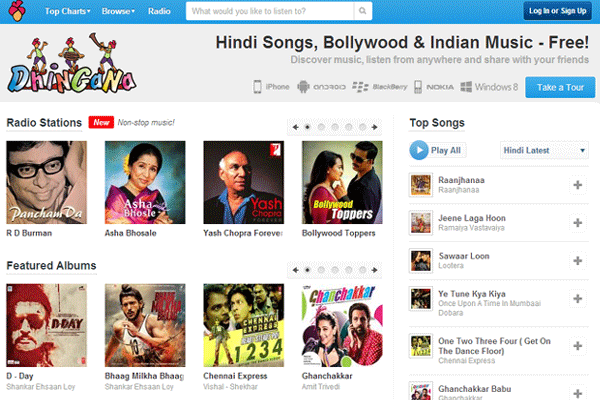 But what about other monetisation routes besides subscription and ad revenues? Shinde noted that even within these two channels, there is much to do. Apart from the ad networks that help the company monetise its inventory, Dhingana has its own homegrown advertising solution for premium partners. "We offer our own advertising solution to bigger brands. So that is one way to make our presence felt. Some of the biggest brands like Coca-Cola and Microsoft have used our solution," he said.
Also, to increase subscription, the company may look at launching multiple services. "We will have one premium service that will capture the iOS market. Then there will be a service to cater to the remaining market and perhaps another one that will serve the feature phone market," added Shinde.
Dhingana rasied an undisclosed amount from Inventus Capital Partners and Helion Venture Partners in 2011. In October last year, it further secured $7 million in Series B, led by Lightspeed Venture Partners. Existing investors Inventus and Helion also participated in that round. Shinde has shared that for now, the company has enough capital to last it till early next year when it would start looking for funds again.
Founded in 2007 by twin brothers, Snehal and Swapnil Shinde, Dhingana currently features a collection of more than 5 lakh free songs in 38-plus Indian languages and claims to be the largest on-demand Bollywood and Indian music streaming service across the globe with users in more than 220 countries. It is headquartered in Sunnyvale (California) and also has an office in Pune.
(Edited by Sanghamitra Mandal)
---