Another e-com casualty: Fashion & lifestyle e-store MiraiStore shuts shop

Bangalore-based Uniworld Lifestyle Solutions Pvt Ltd, which launched the fashion and lifestyle e-store MiraiStore.com in April 2012, has shut shop. Although the company has suspended its online operations, it will start offering its own private label brands Felicia (range of clothes) and Mirai (range of accessories) on other online and offline stores across the country, according to a notification.
Its site is not currently functional but if you happen to visit it, you will come across a message that reads: Due to our increased focus on our private label, we are temporarily suspending our online operations on miraistore.com. Felicia range of clothes and Mirai range of accessories will be available shortly on leading online and offline stores in India. If you have any query about orders already placed on miraistore.com, please contact us on support@miraistore.com/. We thank you for your support and hope that you will continue to shop for our range of clothes and accessories."
MiraiStore was founded by Ram Bhamidi (CEO), along with Asha Shridhar (COO, brands) and Myntra.com co-founder Sankar Bora (COO, operations). Prior to starting this venture, Bhamidi was senior vice-president (online marketing) at People Interactive while Shridhar was chief brand manager of Scullers. They also had on board Femina Prem (co-founder and former director of Uniworld), as a director looking after PR and corporate communications.

The e-store offered a wide range of apparels and accessories from designers like Manoviraj Khosla and Sarita Mandoth, Rahul Mishra, Divya Anand, Krishna Mehta and Priyadarshini Rao, as well as brands like Scullers, People, Manchester United, W, USI and more.
The company also raised an undisclosed sum in angel funding from Prem Kumar M, Uniworld Logistics' group managing director and CEO, in December 2012.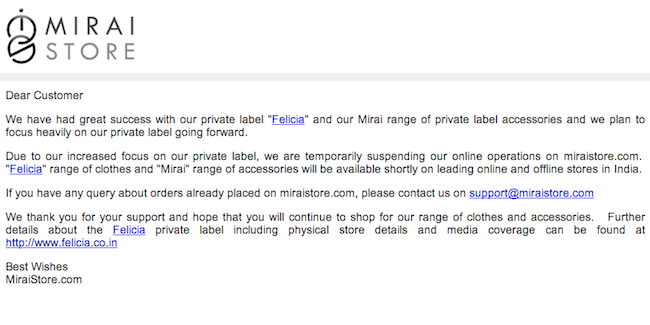 Other casualties in Indian e-commerce space
Taggle.com: The first casualty in the Indian e-commerce space was Taggle.com, a generic e-commerce site run by Bangalore-based Taggle Internet Ventures, which shut shop in December 2011. It was set up as a group buying site, but later changed its business model to generic e-commerce. The company had also raised funds from Battery Ventures and Greylock Partners in June 2010. At the time of shutting down, it had attributed the decision as a direct result of unsustainable price war.
Vamoose.in: Within a week of Taggle's closure, Vamoose Vacations Pvt Ltd, launched by TravelMart India Pvt Ltd, also shut shop. Consequently, the site Vamoose.in was merged with the parent company TravelMart, one of the early travel services providers in the country.

Dealivore & some other deal sites: Hyderabad-based group buying site Dealivore, a deep discount deal provider promoted by ICUMI Technology Pvt Ltd, also shut down in April 2012. But the company was not the only deals site shutting shop. Chennai-based deals site Masthideals, (part of Sri Jagdamba Pearls Group), which provided deals for restaurants, spas, resorts and theme parks, also ceased to operate. Other shutdowns included Bangalore-based group buying site Scoopstr and Snatchdeal, and then there was 30Sunday.
Shopveg.in: In October 2012, Mumbai-based Shopveg.in, an e-tailer of vegetables, fruits and groceries, pulled its shutters down due to lack of capital.
A2zbaby.com: Babycare products e-tailer A2zbaby.com, a brand owned and operated by Mumbai-based Claymould Interactive Pvt Ltd, closed its site in November 2012.

Koolkart.com: Chennai-based lifestyle e-tailer Koolkart.com shut shop in May this year and its co-founder, Anupam Agarwal, left the startup to take up a full-time job with WalMart's innovation labs in Bangalore as a product manager.
Aporv.com: The month of May saw another casualty as Aporv.com, an online marketplace for Indian handicrafts which is owned by Bangalore-based Aporv Crafts Pvt Ltd, stopped taking new orders.
Rock.in: Again, in May this year, premium apparel and accessories e-tailer Rock.in, a brand owned by Mumbai-based Rock In Fashions Pvt Ltd, closed down.

(Edited by Sanghamitra Mandal)
---