App Tracker: Which is the most convenient app for movie buffs?

With the growing popularity of tablets and the ever-increasing size of mobile phone displays, it is no longer a dream to enjoy your favourite movies on the go. But while there are a number of movie-streaming apps out there, selecting the right one is crucial. For the same, in this week's App Tracker, we bring to you a head on comparison between popular movie-streaming apps on the iOS and Android platforms.
We have reviewed the apps on the basis of the movie watching experience, add-on features and the range of content offered. Note that while there is a never-ending list of apps offering the same, we cannot review all of them at once; hence we chose these. In addition, YouTube also offers a number of free movies but since it is not a targeted movie-focused service, we left it out.
Spuul (Android)

The app greets the user with a carousel of film posters at the top, and categories just below it. One needs to sign up/sign in to access the content, which can be done via the user's email or Facebook account. The content is offered in a number of categories that include free, recommended, premium, specials, and genres (like action, comedy and thriller). A few TV shows like Malgudi days, Nukkad, Fauji, and Mahabharat, etc., and Tamil movies are also available.
We tried watching a movie with the app (on Wi-Fi) and the movie streaming was glitch-free. In addition, if for you stop watching the movie in between, it saves the video at that point, so that users can resume where they left. Such videos are saved under an 'unfinished' section. Spuul has given ratings to each movie, though they are not user-generated (which could have been a bonus). Users can also share the movie they are watching on social media sites like Facebook.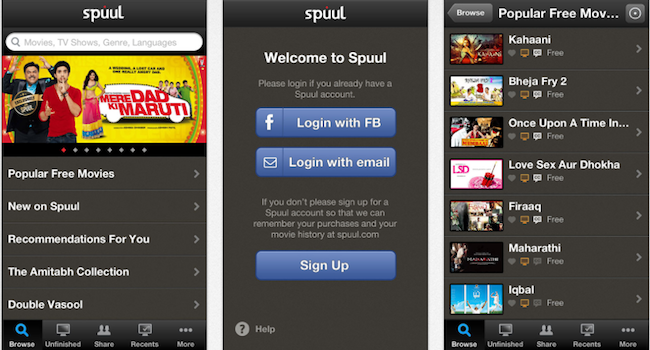 Apart from the free content, two kinds of premium services are also available. There is a monthly subscription that lets you watch all 'premium' content at $4.99 and a second one that that allows users to watch 'specials' at $0.99–$2.99 per movie. Note that these specials are only available for 72 hours once you have started watching them.
Takeaway: The app is decent and works well. The range of content needs more depth, both in terms of Regional as well as Hindi content.
User ratings: The average user rating on Google Play Store is 4.2/5. 

TC rating: 3.2/5 
BoxTV (Android)
This one is from the house of Times Internet. Similar to Spuul, one needs to sign up/sign in to access the content. The videos are available under various categories like recent, popular, recommended, and genre, and users can also alternatively search for videos. The range of content is much broader in this app, considering it offers English, Hindi and regional movies, English and Hindi TV shows, as well as IPL matches (nice). This one also provides a 'resume' option, but a feature we found interesting was the chapter-wise availability of videos.

In it, the movies are divided into a number of sequences and the viewers can choose to watch their favourite sequences. For Hindi movies, the songs are also listed as separate sequences so you can listen to them without having to watch the entire movie. This one is also a freemium app and the monthly subscription cost is Rs 199 in India and $4.99 globally.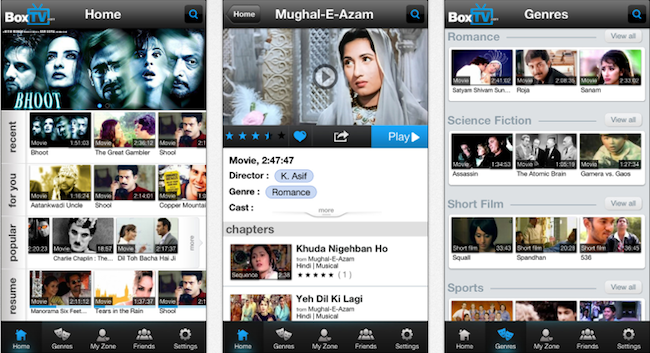 Takeaway: The app impresses with its breadth of content but disappoints slightly with the user interface. Also, buffering of videos takes a long time even on a decent Wi-Fi connection.

User rating: The average user rating on Google Play store is 3.1
TC rating: 2.5/5
Eros Now (iOS)

For accessing the app, users have to sign in through their Eros Now/Facebook account. Once logged in, they are greeted with the featured section that displays the latest music videos/movies on offer by the company. Users can choose to view the video, add it to a playlist, or share it on social networking site Facebook. You can also rate the videos and share your comments on the same.
The main menu offers a mix of music tracks, music videos and movies. The movies are offered in a number of categories that include Eros recommendations, award winning movies (the exact criterion of selecting these is not clear), new releases, blockbusters of 2012, Punjabi flicks and comedy central. The movies can also be filtered according to their year of release and genre (action, adventure, devotional, etc.). Users can also select between watch full-length movies, their trailers, dialogue promos, and song promos. Then there is a search bar that allows users to search for videos.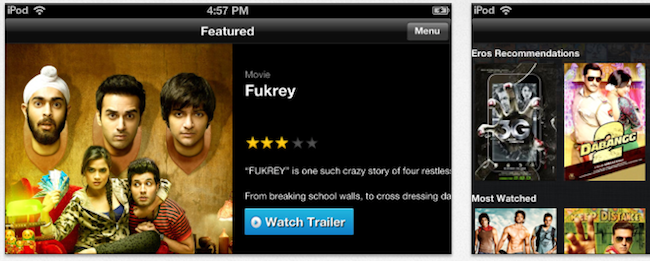 While music tracks and videos are available for free, movies require a subscription. Although the down side is that the app itself does not offer a subscription facility or an option of making payments through it. Hence only Eros Now subscribers will be able to make complete use of the app.
Takeaway: At times the app took a little time to respond to our commands and it works only in the landscape mode.
User rating: The average user rating on the Google Play store is 3.5
TC rating: 3.5/5
BigFlix (iOS)
Unlike the Eros Now app, this one can be accessed without having to mandatorily signing in, although for using the app, you have to enable location services to allow them to search for your location (we tried using it without the same but it didn't work). While the homepage displays a random selection of movies (at least that is how it looks like); users can also filter them by genre (drama, action, comedy, thriller, romance and animation).
The movies can also be filtered according to language; in fact, the app claims to offer 12 languages to choose from—Hindi, Tamil, Telugu, Malayalam, Bengali, Marathi, Kannada, Bhojpuri, Sinhala, Gujarati, English and Italian. However, when we selected Italian, no movies were on display. Users can also select from BigFlix's collections that include best of drama, best of action, hair rising horror, hot and happening as well as a number of top 10 collections (top 10 Telugu, top 10 English, etc.). Once a movie is selected, users can either add it to their watching queue, or share it via Facebook, Twitter and email. They can also view 'related movies', but we didn't see much sense in this feature. After all how can you relate 'Jism 2' to a movie like Family!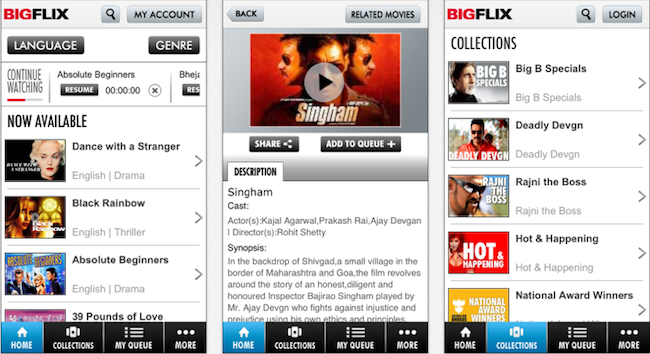 This one does offer subscription services via the app (which is nice); however, we could find only one offer that is a monthly subscription pack for Rs 270. Keep in mind that the subscription is renewed automatically until cancelled. Existing subscribers can also log in to restore their purchases.
Takeaway: A no-nonsense app that is easy to use. Should appeal to only serious movie viewers; since it doesn't offer music videos or audio tracks.
User rating: The average user rating on Google Play is 3.2
TC rating: 3.6/5
Conclusion
While all the apps have their highs and lows, we feel that BigFlix scores a tad higher (and we mean barely!) than its competition, making it the winner among the movie streaming apps.

Also, for all those startups that want their apps featured on Techcircle.in in the future, you can send in your requests, along with a brief descriptor of your apps to editorial@vccircle.com. For readers, if you find an interesting app out there and want it reviewed by us, you can also send us a 'tip' at the above mentioned email id. That's all for this week's App Tracker. Till next time, keep tracking. 
---