Real estate portal Housing, which lists flats for rental and buying in Mumbai, Bangalore, Pune and Gurgaon, has introduced a lifestyle rating feature on its platform to help users evaluate the overall living experience in a given apartment.
"Housing lifestyle rating (HLR) is a carefully structured algorithm that quantifies the overall living experience. It takes into account the most basic needs and sought-after luxuries, and weighs those according to their importance," said co-founder Advitiya Sharma. "The feature is currently available only for Mumbai properties, but other cities will be covered soon."
But how does it benefit users? "Home search involves a lot research and at times, it becomes extremely difficult to take the right decision. That is why we've added a layer of insight on top of our data. For instance, if a good nightlife and good restaurants are important considerations for a user, he/she can look for flats leveraging the 'lifestyle' parameter and choose the right kind of apartment," explained Sharma.
The HLR feature has been developed by Housing's Data Science Lab (DSL), a set-up to leverage the real estate data collected by the Housing team to provide insights and research reports to consumers. DSL took into account four broad verticals or categories – property location, amenities provided by the housing society, facilities available in the neighbourhood and connectivity to the outside world – to develop the HLR feature. Moreover, 50 other factors were considered as well for attributing individual scores to each of these verticals.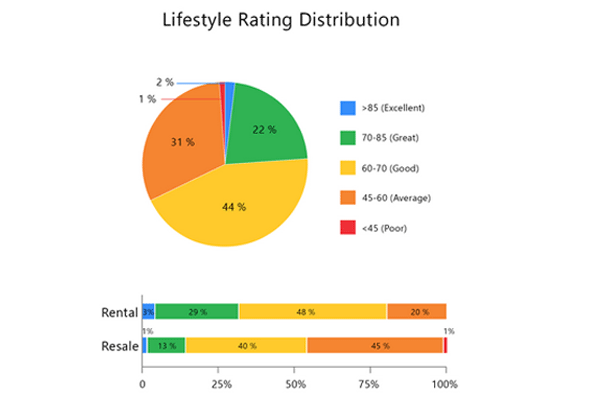 Apartments have been given ratings on a scale of 0-100. If the rating is between 85 and 100, it comes under the 'excellent' category. A rating between 70 and 85 is considered 'great' while 60-70 is considered 'good'. If the rating is 45-60 means, it means the apartment is 'average' and below 45, it is rated as 'poor'.
Housing was set up in 2012 by a group from IIT Bombay. It enables real estate brokers to upload unlimited listings on the site while users can search properties for free. The venture is owned and operated by Mumbai-based Locon Solutions Pvt Ltd and currently has 30 IIT graduates on board.
The startup aims to do business with 2,500 brokers within a year. It will also spend about $2.5 million to build a data science lab and hire more IIT graduates to double its technology team. In June this year, the firm secured $2.5 million in a pre-Series A funding from Nexus Venture Partners. It also received two rounds of angel funding from several investors, including Haresh Chawla, former Network18 CEO, and Zishaan Hayath, co-founder of the phone commerce company Chaupaati Bazaar, which was acquired by Kishore Biyani's Future Group a couple of years ago.
In an exclusive video interview with Techcircle last week, Sharma also said that his firm is building the business on the lines of Zillow, a NASDAQ-listed online real estate database founded in 2005 by Rich Barton and Lloyd Frink, former Microsoft executives and founders of the Microsoft spin-off Expedia.
(Edited by Sanghamitra Mandal)
---