India's largest consumer e-commerce player Flipkart has raised $200 million (Rs 1,200 crore) in a fresh round of funding from existing investors, including South African technology group Naspers, Tiger Global, Accel Partners and ICONIQ Capital.
The funding has been routed through Flipkart's Singapore incorporated entity Flipkart Pvt Ltd, Sachin Bansal, co-founder & CEO of Flipkart, told Techcircle.in. Flipkart Pvt Ltd is now the main holding firm for the group which operates through a string of around half a dozen corporate entities in India to comply with norms related to foreign investment in e-commerce.
Flipkart's latest and fifth round of funding matches the $200 million funding round of mobile ad network Inmobi, which had secured funding from Japan's Softbank two years ago. Till now, what Inmobi received has been the single-largest funding round for a new-generation tech firm in India.
This round takes the funding Flipkart has received so far to over $380 million and comes a year after it raised what was reportedly a $150 million Series D round led by Naspers in a deal which valued it at $1 billion.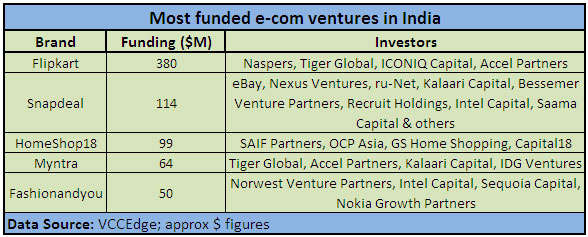 "All our existing investors participated in this round. We will use money to build the technology platform, further grow the supply chain besides talent acquisition," Bansal told Techcircle.in.
Bansal said the company has already achieved half of its target of $1 billion GMV by 2015. "We can be profitable even today if we want, but it is a strategic decision not to, as of now," he said. He said, "This investment validates the belief that our investors have not only in our capabilities as a market leader but also in the potential of e-commerce in India. With this investment, we can now take Flipkart to the next level, pioneering technology and supply-chain innovations that will change the face of online shopping. This will not only enable us to reach our goal of $1 billion GMV by 2015 but also help us achieve bigger milestones in the future."
The company said it has currently 9.6 million registered users and over 1 million unique visitors a day; it achieved a peak of 130,000 items shipped in a deal last month.
Last week, it launched own payment gateway PayZippy. The gateway is housed under a separate firm Flipkart Payment Gateway Services (FPGS) Pvt Ltd; the group has started with the B2B offering of the online payments solution.
This came after a category reorganisation exercise where it shut down a few verticals, including its digital music store Flyte and pruned its electronics category by reducing big ticket items such as large home appliances and televisions.
This came after what was an aggressive category expansion over the past one year where it added apparel, footwear, toys, sports and fitness and eBooks.
In April this year, the firm launched its marketplace and integrated it with its existing e-commerce platform to enable third party sellers to list and sell their products on its website and sell directly to consumers. The firm claims to have over 500 suppliers on the marketplace as of now.
Two months later, the Indian e-commerce space saw the entry of Amazon, which launched its services as a pure marketplace, taking on the veteran in the marketplace business, eBay at its own game. Thereafter, Snapdeal, which pivoted from a deals site to a managed marketplace, raised a $50 million fresh round which included investment from eBay itself and pushed Snapdeal's total funding to over $100 million.
Flipkart had previously raised three rounds of institutional funding from Tiger Global and Accel Partners besides angel funding.
(Edited by Joby Puthuparampil Johnson)
---