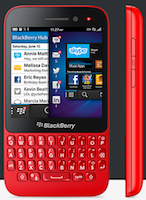 After
unveiling
 the device in May this year, BlackBerry (previously Research in Motion or RIM) has finally launched the cheapest BB10 (OS) device in the Indian market. The new smartphone, called Q5, is a touchscreen+QWERTY device and has been priced at Rs 24,990. The company claims it to be a mid-range, youth-targeted model, which will be available only in a few select markets.
Here is a look at the specifications.
Similar to the Q10 device released earlier this year, this one comes with a 3.1 inch capacitive touchscreen display (720x720 pixel resolution) with pixel density of 329 ppi and also features a QWERTY keyboard. The physical QWERTY keyboard, which comes with contextual auto-correction, also offers additional features such as next-word prediction, 'instant action' typing shortcuts and a personalised learning engine that comprehends the way a user types (obviously, it will require some time to do so).
Q5 is powered by a 1.2 GHz dual-core processor and runs on the BlackBerry 10.1 operating system. It has 2 GB RAM and 8 GB internal memory that can be further expanded up to 32 GB with a microSD card. Since it is running on BB10 OS, the device also comes with BBM Video, a built-in video chat feature for BlackBerry Messenger (BBM), and BBM Voice, which enables users to enjoy free voice calls over Wi-Fi.
It sports a 5 megapixel auto-focus rear camera with Flash, which can record full high definition videos (1080p) at 30 frames per second, and a 2 MP front-facing camera that can also record HD videos (720p). The camera also comes with Time Shift mode, which means it can capture milliseconds before and after you click a photograph – so that you can scroll back on the 'dial' to open your subject's eyes (assuming those were closed when the snapshot was taken) and then go forward to catch another smiling (if he/she was not at the time of the click), before combining them all to create the perfect picture.
On the connectivity front, the device has Bluetooth 4.0, Wi-Fi, 3G, and also comes with a microSD slot and a microUSB port. It measures 120mm x 66mm x 10.5mm and weighs 120 gm. The company has provided a 2,180 mAh battery and claims it will provide up to 12.5 hours of talk time and 14 days of standby time. The trademark LED indicator is also available although Near Field Communication (NFC) is missing. Q5 is available in black, white and red colours.
BlackBerry had first unveiled its next-generation flagship smartphones Z10 and Q10 running on the latest BB10 OS in January this year. As of now, these smartphones are available at Rs 42,490 and Rs 44,900, respectively.
While BlackBerry has tried to target the youth with the Q5 device, we feel that the company has failed again in pricing the device correctly. Ideally, it should be in the under-Rs 20,000 range, especially in a country like India where the company's most successful offering has been (and is, till date) the entry-level BlackBerry Curve 8520. After getting the pricing wrong twice (with Q10 and Z10), BlackBerry could have been more judicious this time.
(Edited by Sanghamitra Mandal)
---