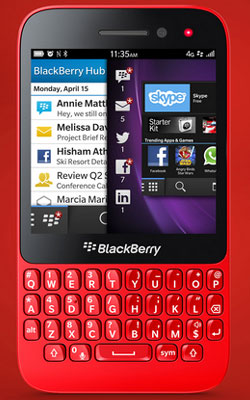 BlackBerry (previously Research in Motion or RIM) will offer its popular instant messaging service BlackBerry Messenger (BBM) on rival iOS and Android platforms by this summer, the company said today. It has also introduced a mid-range, youth-targeted model, BlackBerry Q5, for selective markets.
"BBM has always been one of the most engaging services for BlackBerry customers, enabling them to easily connect while maintaining a valued level of personal privacy. We're excited to offer iOS and Android users the possibility to join the BBM community," said Andrew Bocking, executive vice-president (software product management and ecosystem) at BlackBerry.
According to the company, it has also launched BBM Channels, a social engagement platform within BBM, which will enable customers to connect with businesses, brands, celebrities and groups. The company plans to add support for BBM Channels, as well as voice and video chat for iOS and Android later this year. However, Apple's App Store and Google Play have not approved it yet. Once approved, the BBM app will be free for users, a company statement said.
Interestingly, former co-CEO Jim Balsillie was keen to introduce BBM on other rival devices as part of a broad strategy shift, but the move fell through and Balsillie left the company last year. BBM now competes with mobile IM offerings from Facebook, Apple and others.
Will BlackBerry's decision to make BBM available across rival platform revive the company's fast-shrinking market share? It is still not clear how the firm proposes to generate revenues from this move and experts fear that the 'sticky' factor may soon be gone from BB phones if BMM is available on most devices.
Moreover, there will be Google's Babel (could be launched as Google Hangouts, as per current tech rumours), a new chat service expected to unify all its chat/messenger platforms. If a unified service is available on all android devices, BBM will be in for a tough time.
Since the new smartphone will be rolled out in selective markets including Europe, the Middle East, Asia (including the Asia-Pacific region), Africa and Latin America by July this year, it is also apparent that the company is eyeing emerging markets big time.
"BlackBerry is excited to bring a new BlackBerry QWERTY smartphone, the BlackBerry Q5, to our customers in selected markets around world," said Thorsten Heins, president and CEO of BlackBerry.
The device sports a QWERTY keyboard, hence the screen size is only 3.1 inch (although it is still the largest ever on a BlackBerry QWERTY device). In terms of features, it provides BBM video, screen sharing and BlackBerry Hub, enabling users to keep everything (that matters) in one place. This means users can peek into the BlackBerry Hub (from any app) with just a swipe and navigate effortlessly in and out of messages and conversations. The phone will be available in pink, red and white.
Although too many details are not available, BlackBerry says that Q5 gives the best of everything with its cutting-edge BlackBerry 10 functionality and a physical QWERTY keyboard (you may check Blackberry 10 features here.
The pricing has not been disclosed yet, nor any specific launch date for India. But going by analysts' views, BlackBerry is clearly aiming to replicate the success of the BlackBerry Curve in emerging markets. Also, the device is targeting the youth and the cost is expected to be in the mid-range only.
Will it be a turnaround for BlackBerry soon, given these attempts to grab market share? Share your view with us in the space below.
(Edited by Sanghamitra Mandal)
---