After Olacabs, we fought traffic, as well as the infamous Mumbai monsoons to reach the next stop of Startup Walkabout- the Quikr India office located at Lower Parel, Mumbai. We were greeted by the duo of Atul Tewari, COO, and Aparna Mahesh, brands head at Quikr, who took us to their conference room for a brief presentation on the topic 'marketing, positioning and creating big buzz for your brand'.
The presentation covered a number of areas like how to position your brand, what should be a company's ideal marketing spent, how leveraging social media (Facebook, Twitter, etc.) can work wonders for your brand and the importance of getting marketing plan right the first time around. The speakers also showed off a few of their successful TV commercial campaigns and informed the participants on how brands can do a lot more with a lot less (remember those popular Quikr ads during the IPL 2013).
Post the presentation, the participants bombarded the speakers with questions that ranged from the early days of the company (when it was called Kijiji India), its transition to Quikr, its growth story in becoming one of the leading online classifieds player in the country and what's next for the company. The speakers also gave insights on how did they manage to get listings on the site in the initial days and their plans in terms of marketing going forward.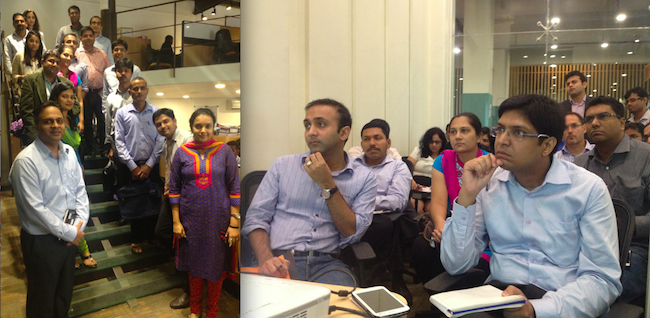 The participants did not even shy away from touching on sensitive areas like why co-founder Jiby Thomas exited the company and how is Quikr doing post his exit, but the questions were dodged with equal finesse by the speakers (sorry gossip mongers, better luck next time!).
Interested participants were also given a guided tour of the Quikr office, and the interaction ended with a group photograph.
For those who don't already know about Startup Walkabout, for the first time in the history of such events in India, a number of 'lucky' participants are being taken to the 'offices' of India's six top venture capital funds and innovative companies in Mumbai for interactive workshops. This will allow the participants to meet the teams and interact with them, in addition to seeing how the companies function in real life. These workshops will deliver insights on some of the most pertinent areas driving a company's growth and also allow the participants to get to know what goes around in the minds of the top VCs in the country. What more can one ask for?
You can also check out our Twitter handle @techcirclein for updated pictures.
We began the live coverage of Startup Walkabout, a unique initiative by VCCircle as part of the India Angel Summit 2013 at the Olacabs office, you can read more about that here. Stay tuned for the next stop, which is the Nexus Venture Partners office.
---