Well here we are again, another week, another App Tracker. Last time around, we had compared the Indian e-commerce major Flipkart's ebook reader app against globally popular ebook apps from Google and Kindle, but this time around we will only focus on apps created by Indian companies.
In this era of the Apple iPhone's and Samsung Galaxy smartphones, location-based apps have been gaining popularity among users, who don't mind sharing their 'locations' with companies, in order to get driving instructions, finding the best place to dine, or getting updates on available offers in their vicinity. In this week's App Tracker, we will be featuring some of the location-based apps that have been developed in the country and cater to the Indian users.
Hoppr (Android)
Developed by Gurgaon-based Y2CF Digital Media Pvt Ltd in partnership with Bharti SoftBank, Hoppr is a device-agnostic and location-based check-in service that enables users to explore rewards and offers available with brands and merchants in their vicinity. To get started with the app, one needs to verify his/her phone number by giving a call to Hoppr. The procedure may sound tricky, but the app makes the verification process fast and easy. Once the number is verified, a user needs to sign up/sign in to access the content. Users can either create new accounts, or sign in with their existing Facebook accounts.
Once in, they can choose between nearby 'mall and markets', and nearby 'top picks', post which a list of places appears, along with their distance (along with a Google map) from the user's current location. Places can be filtered according to their type—such as shopping, restaurants, coffee shop, bars, spas and nightclubs. After selecting a particular place, users can check in to them and share them on Facebook. Users are given points for every check-in, which can be redeemed for rewards later.
Users can also provide 140-word (are we taking cue from Twitter?) reviews for the places they have checked in to. The app has seen 10,000-50,000 installs.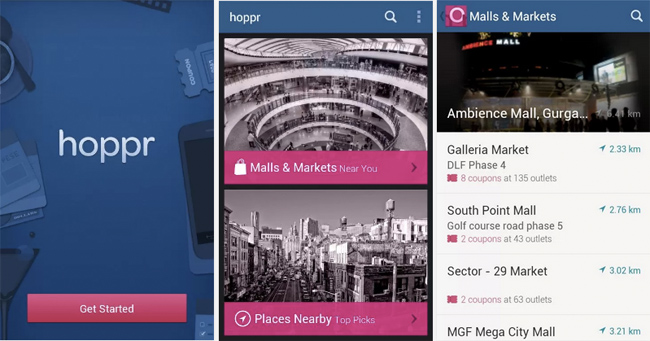 Takeaway: The app is easy to use and impresses with its user interface. It can go deeper with its social media integration. 
User rating: 4.1/5
TC rating: 4/5
NaviGale (Android)
A social app with a location-based twist, NaviGale basically allows the users to sync his/her contacts from the smartphone and social networking site Facebook with the app. Once that is done, if any of the user's contacts happen to be in a nearby location, the app notifies the user of the same. The user can chat with their contacts, and also connect with strangers via the app.
Privacy settings enable users to choose whether to make their location visible to friends and 'like-minded people', although users can hide from the app's radar only for a maximum of five days. While the app claims to offer all of these features, when we actually started testing it—on two devices simultaneously—it kept crashing on one device and didn't work at all on the other.
We also invited a colleague to the app via Facebook, and got them to download the app. We then tried testing out the 'friends nearby' feature, but the app could not detect our colleague even though he was sitting a few metres away from us. So, basically none of its 'offered' services were available, since the app never got past the first step. It didn't function despite us following instruction to the letter multiple times.
The app has seen 1,000–5,000 installs.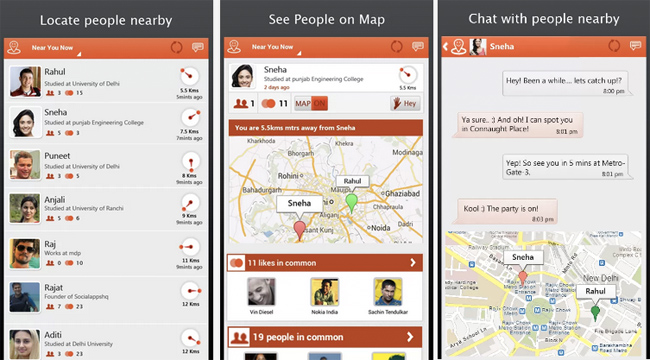 Takeaway: An interesting app, but needs a lot of bug fixes.
User rating: 4.3/5 (cannot be depended upon since its only been given by 11 users)
TC rating: 1.5/5 (given only for the concept)
DelightCircle (iOS) 
The app identifies and selects the user's location (after seeking permission for the same) on the basis of which it shows new arrivals and offers on products to the users in nearby locations, along with their contact information and exact location on a map. They can alternatively search for offers by categories (apparels, electronics, home decor, restaurants, grocery and footwear), as well as location. The offers can be redeemed by the users, or shared with friends via email or Facebook.
Apart from all these, users can also earn Delight points by simply inviting new friends, walking in a store or checking out a new arrival inside selected stores (the ones where the company has a tie-up). Users can also rate and review the stores they check in to. Once accumulated, the Delight points can be redeemed for real rewards (ranging from a free mobile recharge, movie tickets and store gift cards) or can be donated to social causes (the startup has a tie-up with CRY).
To reduce the nuisance value, the app is pull-based instead of push-based (which means you will only see the offers when you open the app). Additionally, the app can store the users' loyalty cards in one place; hence removing the need for carrying them around all the time. The app has seen 50,000-1,00,000 installs.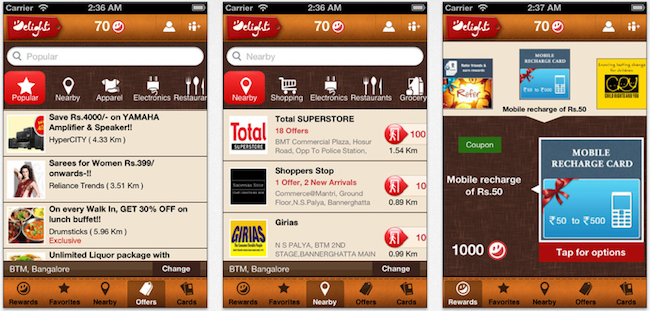 Takeaway: A cool app that offers a lot to its users. The best thing we liked about the app is that you can check it out as a guest, without having to sign in/sign up.
User rating: 4.4/5
TC rating: 4.1/5
NowFloats (iOS) 
An app that allows its users to discover and be a part of the buzz of a location. For example, if you make a 'Float' near Taj Mahal, like say 'the pinnacle of Mughal architecture', or 'damn it's crowded', other Nowfloat users visiting the Taj Mahal will be able to read your Float. Users can Float their thoughts, or read other peoples Floats.
Interestingly, after viewing a particular Float, users can also rate it, on the basis of which it will sink or float. But for using these features users will need to login to their existing accounts or create a new one. Once logged in, users can also choose/change their avatars.
In addition to this, the app also information on events happening around you, as well as deals in the user's vicinity. Information like what's being offered, validity of the deal, and its location (on a Google map) are provided. Users can also flag deals for viewing them later.
The app detects the users location, post which they can select a radius (between 0.5 to 20 kilometers) to view floats, deals, as well as events. The app has seen between 1,000 – 5,000 installs.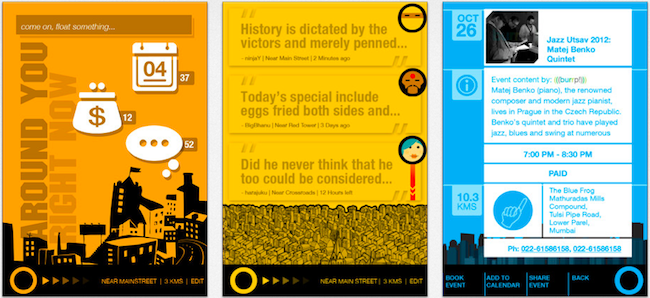 Takeaway: A neat app that offers a lot, but can get a little confusing to use. The buttons should be more clearly defined. 
User rating: 4.1/5 
TC rating: 3.8/5
Conclusion 
Note that this is not a comparison of the apps, rather an introduction to the various location-based apps available from Indian companies. Hence there is no winner for this week's App Tracker and no table to compare one with the other. We could have missed out on some of the apps out there, but that is always the case since we only review a handful of apps each week.
Also, for all those startups that want their apps featured on Techcircle.in in the future, you can send in your requests, along with a brief descriptor of your apps to editorial@vccircle.com. For readers, if you find an interesting app out there and want it reviewed by us, you can also send us a 'tip' at the above mentioned email id. That's all for this week's App Tracker. Till next time, keep tracking.
(Edited by Joby Puthuparampil Johnson)
---